The Death of Beer Has Been Greatly Exaggerated
Taking a deeper dive into America's liquid economy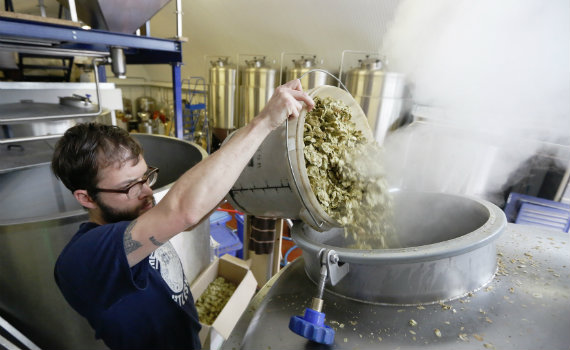 REUTERS
It's been a rough decade for beer.

Americans are drinking less brew. Producers are making less, too. Meanwhile, wine has closed a 20-point favorability gap with beer in the just 20 years. Since the mid-1990s, beer volume has declined by nine percent while and spirits have soared (now even hard cider is staging a comeback after a century-and-a-half slump).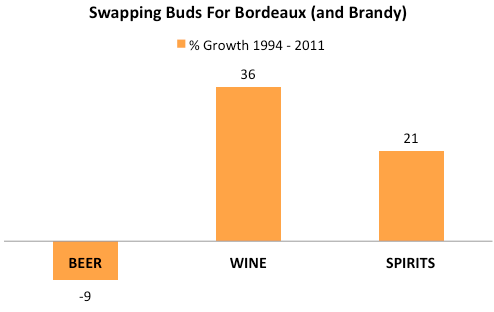 But, despite my previous lamentations, maybe beer doesn't deserve out tears. This is still America's booze, goshdarnit, and Uncle Sam is awful proud of that beer gut. In fact, total U.S. spending on all alcoholic beverages -- both at home and at restaurants and bars -- is up 27 percent since 1980 and even more since the mid-century.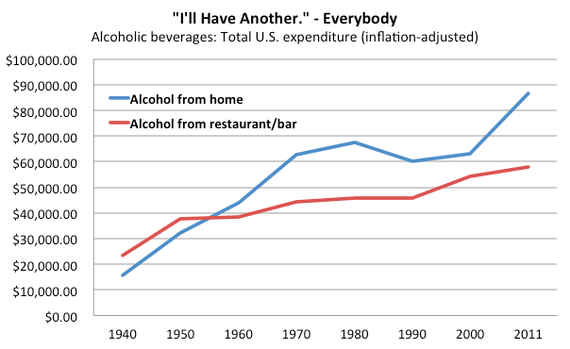 Those numbers are inflation-adjusted, but real incomes have grown since the 1950s, too, so maybe the best way to see our boozy growth is measure alcohol's share of the food budget, which has grown steadily since 1994.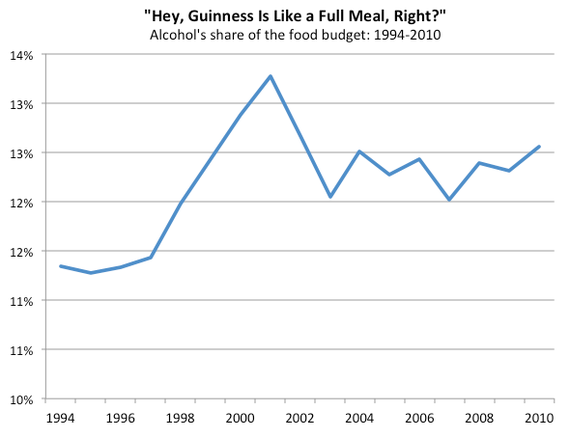 Pull back the lens to the late 19th century, and the story changes slightly. Alcohol spending has been about 15 percent of the food budget since the turn of the century, but the rise of cheap beer in the second half of the 20th century helped contribute to a decline in relative booze spending. It's only recently (since 1994, or so) picked up.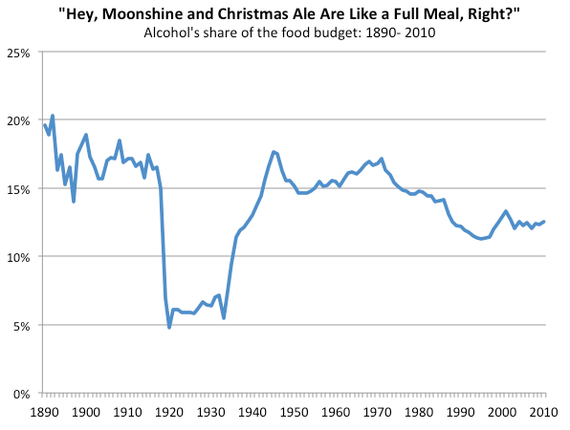 Back to the present: If we're spending more on alcohol but drinking much less beer, what's going on? Well, we're spending more for the suds. Beer is getting more expensive on average, due to the rise of craft beers, which account for about 10 percent of the market. In 1980 there were 8 specialty breweries in the United States. Now there are more than 2,000 "Between 1994 and 2011, an average of 97 breweries opened in the United States every year," consultant David Dworin pointed out in an email to me. As a result, beer hasn't lost much ground as a share of total booze-spending at stores.
And it is by far the most popular alcoholic drink by volume. Yes, you point out, it is physically impossible to drink vodka in beer-like quantities. And yes, I'd agree, but on an alcohol basis, holds up well against wine: Beer volume still outsells wine volume by 8.5X despite the fact that a typical beer that's 4% alcohol is only three or four times weaker than a typical wine.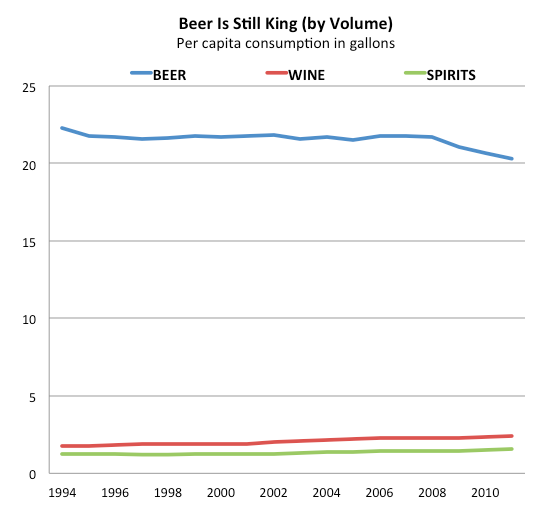 To sum up: The total amount of beer consumed by Americans is in structural decline, and there are more wine-drinkers than there used to be. But beer is still the most popular boozy beverage in America and overall sales are holding up, thanks in part to the emergence of craft beers.