No, This Stock Market Is Not the 'Next Great Bubble'
The S&P 500 is up over 18 percent the past year, but we're not anywhere close to partying like it's 1999.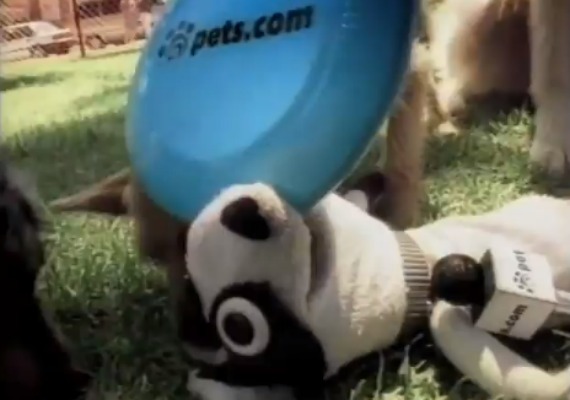 Youtube
Just because the price of something is going up doesn't mean it's a bubble. Even if it's going up a lot. And even if it's something you don't like. After all, there might be a good reason it's going up so much. A good reason like ... record profits.
The S&P 500 has had a good year. It's up over 18.6 percent the past 12 months -- enough that Hamilton Nolan of Gawker thinks it just might be THE NEXT BUBBLE. (Dun dun dun). But what's his evidence that valuations have rocketed away from reality into the non-planetary realm of Pets.com? Well, the S&P 500's price-earnings (PE) ratio has jumped 14 percent the past year, the most since 1999, jumping all the way up to ... 16. So case closed?
Not exactly. Now, a PE ratio of 16 isn't cheap, but it isn't a bubble either. As you can see in the chart below, the S&P 500's PE ratio is only half as high now as it was during the tech bubble, when all you needed to IPO was a sock puppet, a dotcom address, and a business plan. And sometimes just a sock puppet and a dotcom address.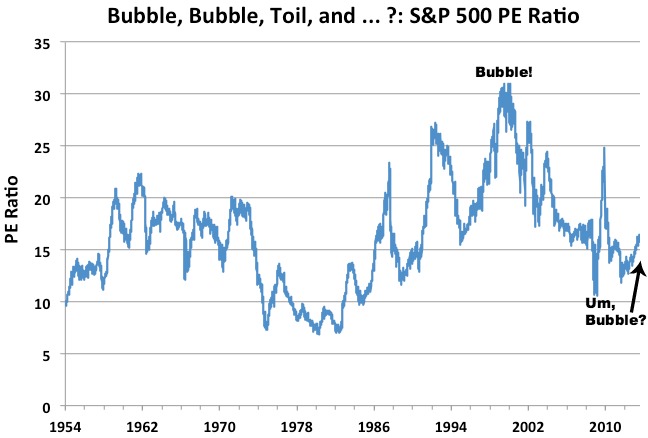 I'm not saying that stocks won't fall from here. Maybe they will, maybe they won't. But if they do, that wouldn't prove that everything that came before was a mirage. It would just prove that markets can go up and down. See, a bubble is when an asset's fundamentals don't support its price. It's one part herd mentality, and another part irrational exuberance. Investors buy something, because everybody else is buying it -- because it's going up! And it's going up, because investors think this time is different -- that new technology or markets or whatever else has ushered us into a brave, new world of valuations.
There isn't that kind of mania now. Sure, margin debt is at all-time nominal high, but the market is going up, because earnings are going up. Of course, it isn't good that profits have gotten so disconnected from workers, but they have -- and they're real.
Even a sock puppet can see that.