More Than a Quarter of Fast-Food Workers Are Raising a Child
That, and other surprising stats about the people serving your burgers.
Think of a typical McDonald's employee -- who comes to mind? A teenager working for extra cash between classes? Some guy who couldn't get himself past high school? A single mom trying to provide for her kid? Chances are your answer will say a lot about your feelings towards the fast food workers who've been striking these past months for a $15 hourly wage.
So, to help clarify any misconceptions out there, John Schmitt and Janelle Jones of the (very liberal) Center for Economic and Policy Research have gone ahead and combed through the most recent census data to create a portrait of the nation's fast food workforce (the tables below are all theirs). A few interesting stats:
Almost 40 percent of fast food workers are 25 or older.
More than 30 percent have at least some college experience.
More than a quarter are parents. 

Now in a bit more detail, starting with the age breakdown. The fast food workforce does, in fact, skew young. Thirty percent are teens, and another 30.7 percent are 20-24, meaning they're at least in college range. That said, nearly 40 percent qualify by pretty much anybody's definition of an adult. (The Bureau of Labor Statistics, for its part, reports that median age of "combined food preparation and serving workers," a category that includes your average McDonald's hand, is about 29).
Meanwhile, the vast majority have at least a high school degree, and a surprising 31 percent have at least some college. Presumably, some of those people are students working their way through school, but exactly how many who knows. The broader point is that these jobs aren't primarily a refuge for high school dropouts.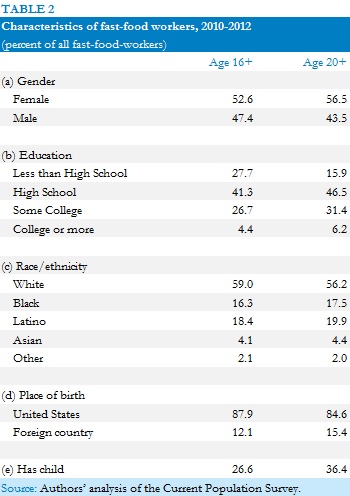 And finally, a full 26.6 percent are in fact raising children. Among workers over 20, it's more than 36 percent. Now, many of those parents could be married, and some are almost certainly working part-time so they can spend time with their children. But, the point remains that a sizable number of these workers are relying on their McWages to support a family.
And those wages are, by and large, quite paltry. Even among workers over the age of 20, about 79 percent earn less than $10.10 an hour.
But hey, at least some of the parents are probably earning in the $12.00 plus range. You know, making the big money.