Jeff Bezos Is Brilliant, but Amazon's Dominance Is Not Inevitable
The online retail giant has built an impressive economic moat around its business. But there are enemies on the banks of the water.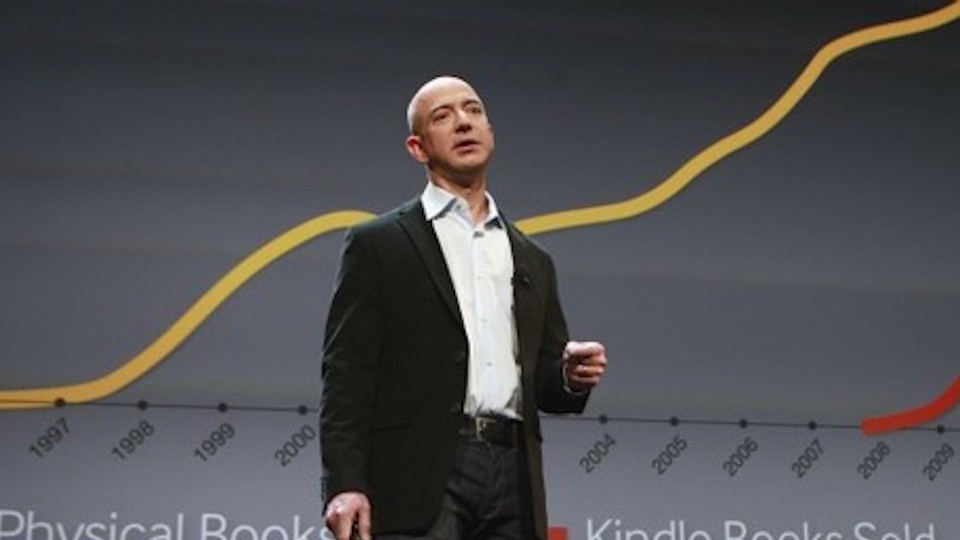 CEO Jeff Bezos is a magician. At a time when investors scrutinize quarterly earnings reports with a microbiologist's fussiness, Bezos has persuaded Wall Street to accept minuscule profits or worse in exchange for an ever-rising valuation. He's done it by building a business that's so grotesquely complicated and hard to duplicate that Wall Street essentially considers it a near monopoly.
And maybe it is a near monopoly. But as Bloomberg's great piece on Amazon's $14 billion warehouse spending spree points out, there are enemies on the banks of the moat. EBay has introduced same-day delivery in some cities. Wal-Mart has 4,700 stores in the U.S., which means its product is never more than a few miles away from hundreds of millions of American households. Meanwhile, upstart Instacart "guarantees delivery of goods in less than two hours ... faster than Amazon's new grocery business," Danielle Kucera reports.
It's easy to imagine that Amazon, the biggest online retailer at a time when e-commerce has doubled in four years, will eat the retail industry. But it's unlikely that its software and constellation of fulfillment centers represents the final development in a turbulent century in retail innovation.
Reach back just 30 years ago to the 1980s, where a little upstart from Arkansas came out of nowhere and ate the retail industry: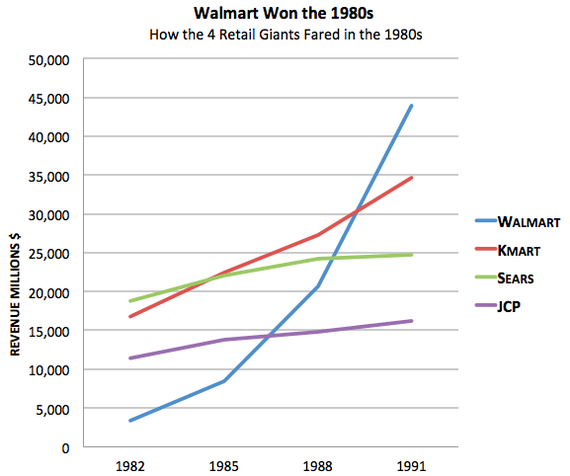 ... and that was the end of Sears. Soon, it would be the mark the long demise of JC Penney. Retail royalty can change in a hurry.
I don't know who the Walmart of today is. Maybe it's Amazon, Instacart, some company we haven't heard of, or, well, Walmart. Bezos can spend as much as he wants because his company produces prodigious cash flow and because Wall Street will let him. He does spend as much as he does because he has to. Amazon is amazing. But its dominance is not inevitable and must be protected at very expensive costs.