Is Grand Junction Really a Model for the Future of Health Care?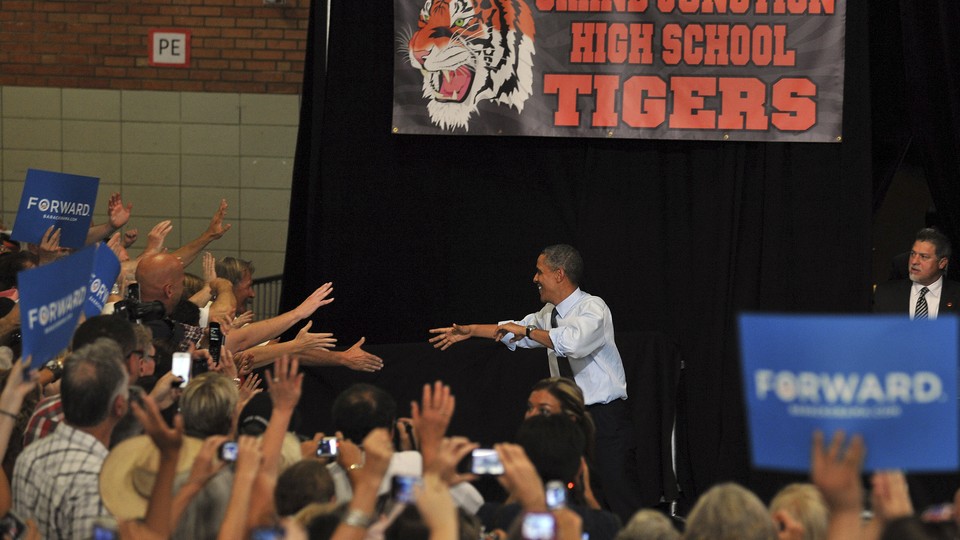 When President Obama was making his pitch for health care reform in 2009, he flew to Grand Junction, Colo., to praise the local medical community for cutting health care costs. "You're getting better results while wasting less money," he said. The area particularly excelled at providing cost-effective care to Medicare patients — in 2006, Grand Junction's per-patient Medicare costs were 30 percent below the national average. It wouldn't be surprising if the Affordable Care Act that Obama eventually signed in 2010, with its emphasis on lowering Medicare expenses, led more communities to follow the example of this largely blue-collar city of around 50,000 on Colorado's western slope.
But Grand Junction's health care story is more complicated than Obama's praise indicated. While Grand Junction has managed to provide low-cost care for Medicare recipients, it's not dramatically less expensive than other Colorado towns for non-Medicare patients. And therein lies the caution for localities that want to create low-cost medical havens: Innovation that lowers health care costs for one type of patient can sometimes push costs up for another.
A history of collaboration has helped Grand Junction rein in its Medicare costs. The town sits hundreds of miles from major medical centers in Denver and Salt Lake City, and its isolation has forced members of the medical community to work together. Back in the 1970s, area physicians formed an HMO — now known as Rocky Mountain Health Plans and available across the state — as well as the Mesa County Physicians Independent Practice Association, a group of primary-care doctors and some specialists. Together, the two organizations developed what RMHP calls the "Mesa County model."
Under this blended-payment model, MCPIPA doctors get the same reimbursement no matter whether the RMHP patient they see is covered by Medicare or private insurance. This makes it easier for patients with different kinds of insurance to find a doctor. Doctors used to get the same reimbursement for RMHP patients covered by Medicaid, too, but in 2008 reimbursements for Medicaid patients were lowered.

"We want our community to go to their primary-care physician," says MCPIPA Executive Director Sandy Randall. Ensuring access to a family doctor gives patients a lower-cost place to take their health problems than the emergency room. Establishing a relationship with a physician also helps patients manage chronic conditions, such as diabetes, and get preventative care.
MCPIPA and RMHP also use incentives to encourage doctors to use less-expensive services. RMHP withholds a percentage of reimbursements for the claims doctors submit until the end of the year, when the health plan looks at its finances. If premium revenues for Mesa County exceed expenditures on care, the health plan and MCPIPA share the profits. To set low-spending norms in the medical community, MCPIPA creates cost profiles for each primary care-doctor — with information such as spending on imaging services — and shares the profiles among members.
There are limits to the reach of the Mesa County model. RMHP insures about 25 percent of Mesa County patients, and Mesa is home to less than half the 305,000 people in the Grand Junction hospital referral region. But other local players are also working to make services more cost-effective. St Mary's, the regional hospital, operates a clinic that gives uninsured and low-income patients a low-cost alternative to the emergency department for their non-emergency conditions. The area hospice works with doctors to help elderly patients make end-of-life plans, preventing aggressive interventions patients don't want.
For Medicare, Grand Junction's efforts have paid off. In 2010, total Medicare reimbursements per person in the hospital referral region were $6,993, 73 percent of the U.S. average and in the top 10 percent of low-cost regions, according to the Dartmouth Atlas of Health Care. Fewer Medicare patients are readmitted to the hospital within 30 days. In the last two years of life, Medicare patients in Grand Junction pay about 56 percent the U.S. average in co-payments.
Other payers haven't experienced comparable savings. "We're good for Medicare; our other costs maybe not so much," Randall says, despite doctors' best efforts to lower costs for all payers. It's more challenging to control costs for non-Medicare payers, she says. Medicaid and commercial-claims data compiled by Colorado's Center for Improving Value in Health Care show that the total cost of care in Mesa County is exactly as expected, given the population's health status. Yet Mesa County residents are 16 percent less likely to be admitted to the hospital, 26 percent less likely to make an outpatient visit, and 33 percent less likely to visit the ER than their health status would predict. Even though Medicaid and privately insured residents use fewer services, their costs are on target, not lower.
Why haven't non-Medicare costs dropped as dramatically? "Almost all the variation in Medicare spending is driven by differences in utilization," says Ateev Mehrotra, a policy analyst for Rand. Medicare reimbursement rates are set nationally by the federal government. But when it comes to private insurance, "the majority of the difference in spending is not driven by utilization, but is driven by prices," he says. In the commercial market, rates are set through local negotiations between insurers and hospital systems.
In the American medical system, there's really no such thing as a low-cost region. There are high-spending hospitals in low-spending regions, and low-spending hospitals in high-spending regions, the Institute of Medicine pointed out in a report last month. In fact, low Medicare spending is often associated with high private-insurance spending, says Robert Berenson, fellow at the Urban Institute. Small medical communities tend to have lower Medicare costs because there are just fewer resources for Medicare patients to use. But a hospital dominant over a medical community has market power it can use to demand higher prices from commercial insurers.
In recent years, the rising cost of care has been driven by unit prices, not because of excessive use. Even the old rule of thumb — that it's cheaper to see patients outside the hospital — is eroding as prices for outpatient services rise and more services are delivered in an outpatient setting. From 1999-2011, hospital outpatient spending per fee-for-service Medicare beneficiary grew 110.5 percent, according to the Medicare Payment Advisory Commission.
Grand Junction demonstrates how care coordination and payment incentives can lower the cost of care for Medicare patients without sacrificing quality. Lowering costs for everyone will take another step: tackling the prices of services. That's been hard to do, historically, because of the lack of price transparency in the system. But a host of recent efforts — such as the CIVHC's claims database, federal data revealing the prices given hospitals charge for common procedures, and national data-gathering initiatives such as the Health Cost Institute — could help shed light on what's driving health care costs for non-Medicare payers. Most doctors don't know off the top of their head what a given procedure at a given facility will cost a patient, Randall says. Public data would make it possible for them to find out.
Clarification: An earlier version of this article included an outdated account of the blended payments agreement between MCPIPA and RMHP. Since 2008, reimbursements for Medicaid patients have been lower than for Medicare and privately insured patients.