How to Not Get Killed at Work: A Graphical Guide
You'll probably be fine. Just stay inside, don't try to build anything, and get a job at a law firm.
Let's start with the good news. Last year was the second-safest year for workers in two-decades of Bureau of Labor Statistics' most morbid report: The Census of Fatal Occupational Injuries. We added nearly 2 million jobs in 2011, but fatal work injuries fell by 300.
The bad news is that 4,383 people still died at work last year, according to official BLS data. Gleaned from its Thursday report, here are some tips for you to stay safe.
(1) Stay Off the Roads.
Transportation "incidents" accounted for two in five deaths. The next most common causes were violence, getting struck by something, slipping or falling, and exposure to substances and fire. The upshot here is that office work is pretty safe, but the roads are relatively less safe. Drivers, sales workers and truck drivers were the subgroup with the "highest number of fatal injuries" within the transportation category. Some good news: It's never been safer to be a taxi or limo driver. Their fatal injuries fell to an all-time low.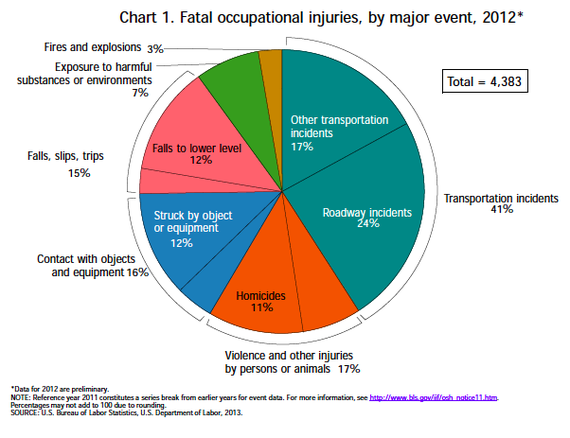 (2) Don't Try to Build Anything.
The category with the most fatal work injuries was construction, which also had the fourth highest death rate. Fatal construction injuries have fallen 37 percent since the middle of the construction boom in 2006.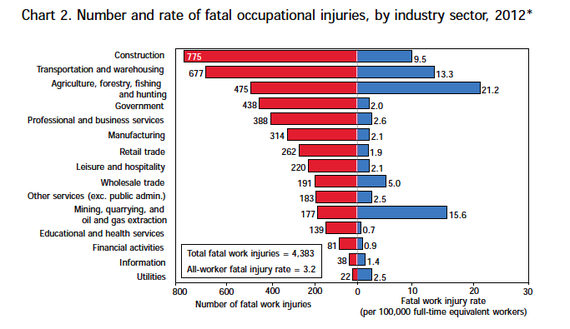 (3) Avoid the Outdoors at All Costs.
The most dangerous jobs in America? Logging and fishing. By far. Also, it should be noted that all ten of the most dangerous job categories are mostly outdoors.
Just eight people in the legal industry died at work last year, tied with computer and mathematical occupations for the lowest of any category. Finally, a reason to go to law school.