Chattanooga's Makeover Secret: A River Runs Through It
Once the dirtiest place in America, the city turned itself around by developing a scenic riverfront.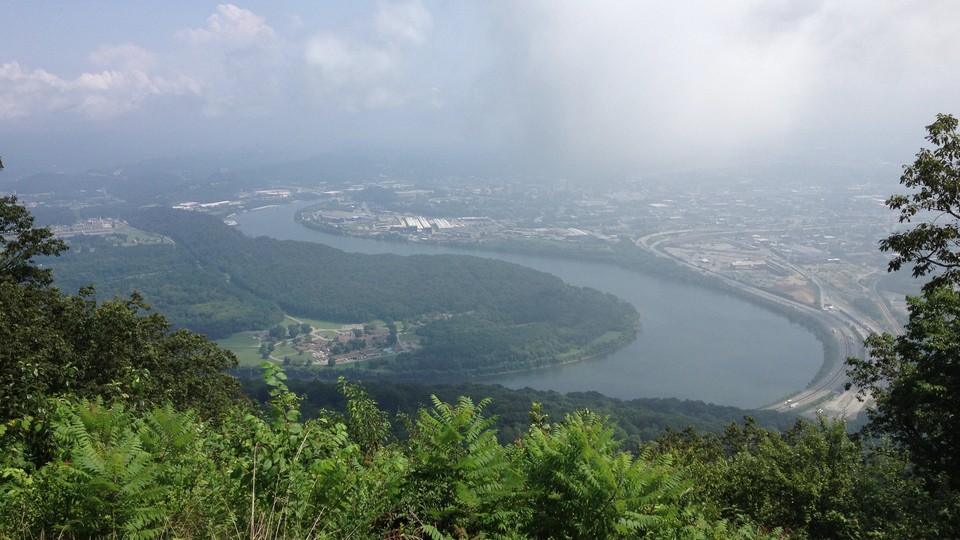 This article is part of a weeklong America 360 series on Chattanooga. 
CHATTANOOGA--If a visitor stands on top of Lookout Mountain just outside the city limits, Chattanooga's most prominent feature instantly becomes visible. It's the Tennessee River, snaking through downtown.
The river does not just add aesthetic beauty or recreation to this city of roughly 170,000 people. It also lies at the center of Chattanooga's revitalization effort, so much so that one nonprofit in town, devoted to development, is called the River City Company. Many of the city's best attractions, like the aquarium, art museum, and walking bridge sit within yards of the riverbank.
Chattanooga's ability to recognize and capitalize on the riverfront, arguably its best natural asset, fueled much of its comeback over the last 20 years, according to a Brookings Institution 2008 case study about Chattanooga and other successful post-industrial cities.
The think tank studied the way 17 out of 302 struggling smaller cities managed to prop themselves up after decades of losing out economically and found that unique characteristics, like a river, great urban planning, or local leadership, helped to boost the economy in Chattanooga and places like Chicago, Duluth, Spokane, and Louisville. The river helped to distinguish Chattanooga in particular, the report says, much the way Louisville benefitted from its central location, or Akron, Ohio, from its expertise in a certain type of manufacturing.
Just as significantly, the river made downtown Chattanooga hip: a place for residents and tourists to hang out, walk around, and spend money. David Penn, an economist at Middle Tennesee State University, visited the city one Labor Day weekend in recent years only to be surprised by the crowds near the aquarium. "In terms of making it a place people want to live, city officials have done that," he says.
Over the last 20 years, Chattanooga's nonprofits, politicians, and private citizens have made Chattanooga more appealing by constructing new parks, walking paths, and tourist attractions at different vantage points alongside the river. This is from a city best known in the late 1960s as the dirtiest place in the country, thanks to all of its air pollution caused by its manufacturing base.
Now, the Tennessee River Park goes on for 22 miles with jogging and biking paths; spots to fish and boat; and scenic overpasses. This was one of the first projects centered on the water, an idea first hatched in the 1980s; on a recent Thursday afternoon, several residents strolled or jogged along on stretch of the park.
(Nancy Cook)
In 1993, the city also made a crucial move to turn a major bridge, once open for car traffic and slated for demolition, into a walking bridge. The iconic blue Walnut Street Bridge now connects downtown Chattanooga to the northern area of the city: another burgeoning neighborhood of restaurants, condos, beer gardens, boutiques, a gourmet hotdog lunch spot, and the Chattanooga Theatre Center.
The city's final major push to redo its waterfront happened in the mid-2000s, under the leadership then-Mayor Bob Corker, now a U.S. Senator from Tennessee. This $120 million effort added a new building to the aquarium complex; expanded the footprint of the art museum; created a new city pier; and added many pedestrian areas that ultimately reshaped 129 acres in downtown, according to the Chattanooga Area Chamber of Commerce. Half of the $120 million in funds came from private donations; the other half came from the sale of some publicly owned properties and an increase in the taxes on hotels and motels.
(Nancy Cook)
For now, Chattanooga's new mayor, Andy Berke, remains focused on diversifying the economy and trying to jump start a tech sector here. Even the CEO of River City Company, Kim White sees the next stage in the development of Chattanooga as boosting the downtown housing stock, or connecting more neighborhoods to downtown. "I don't think the next thing has to be on the river," she says.
And, what advice can White offer to other communities that want to emulate Chattanooga's 20-plus year project to remake the landscape around its river? White, a native resident, says the key points are to involve the community and to find money from private foundations or individuals as opposed to tax dollars. But, as most important part, she says, is to have a plan that involves as many residents as possible and not just a lone city official. "Having a plan protects you from different administrations' focus, which can change every four years," she says. "A plan is bigger than any one."