Can Al Jazeera America Win the Cable Wars?
First, it needs to answer a few questions.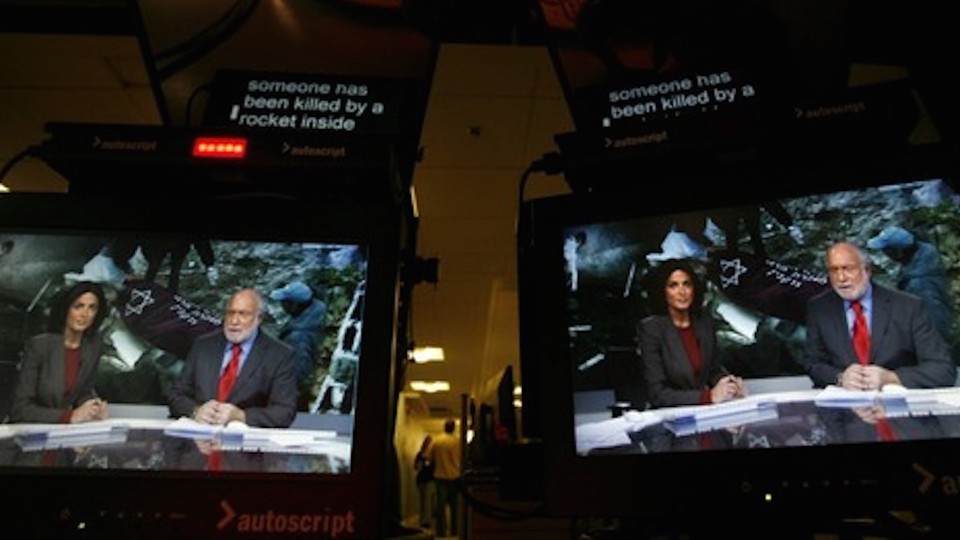 Al Jazeera America (AJAM), the new cable news channel financed by the government of Qatar, bills itself as an answer to the problem of America's talk-heavy, information-lite cable news diet. While the project could succeed, for now its introduction offers more questions than answers.
The first question is reach. After more than six years of trying to break into the American market, Al Jazeera spent half a billion dollars to buy Current TV and its 48 million potential households for an audience. That's better than the small footprint of Al Jazeera English in places like Burlington, Vermont, Washington, D.C., and New York City. But the Current TV reach is still paltry. The nightly audience for numbered around 42,000, and as host as Eliot Spitzer told Media Bistro: "Nobody's watching."
Almost immediately after the deal, Time Warner Cable quickly announced it would drop Current TV from its listings. Suddenly, Al Jazeera America had lost about 10-12 million households.
The second challenge is branding. Al Jazeera America is strictly AJAM, not to be confused with Al Jazeera Arabic, AJA. Ehab Al Shihabi, interm CEO for Al Jazeera America, noted that 75% of people surveyed that had never seen any Al Jazeera programming carried a negative perception of the brand. Media scholars William Youmans and Katie Brown found that people were more positive about Al Jazeera English content when the only tweak was a subtle logo change to CNN International.
The third question is ownership: What are the practical implications for a start-up American news channel when it's financed by a small foreign government? For coverage, perhaps there are none. According to Youmans, the Qataris stay out of the editorial game for two reasons: to let experts handle the product and to establishing plausible deniability when coverage upsets friends of the government. (You will, however, be hard-pressed to ever find coverage about Qatar on the Web site.)
But there's a downside to having one party holding on the money spigot: What happens when they change their mind?
The experience of Al Jazeera English is instructive and a little worrisome. About $1 billion was spent to start Al Jazeera English, and the network gets $100 million for its annual budget. When I visited Doha, some staffers were utterly unconcerned about budgets. But others had noticed a tightening. During a period of instability for The Stream, the social media-based show out of DC, some wondered if Doha would suddenly be its new home, although it continues to operate in DC. Web staff at AJE was reduced from over 100 to closer to 50 after the departure of Mohammed Nanabhay. International trips were sharply cut. Meanwhile, Web monetization has been effectively ignored.
AJAM represents another astonishing round of investments: 900+ new jobs, 12 U.S. bureaus including Nashville, New Orleans, and Detroit, offices in the Newseum for its flagship evening show, "America Tonight," big-name talent including Soledad O'Brien and Kate O'Brien, and a brand new website. But if the news channel fails to find an audience, there are no guarantees how long many of these investments will stay on the books.
Coverage is the fourth and perhaps trickiest challenge. The cable news landscape is divided into clear fiefdoms. With 85 percent talk-show programming, Fox is for conservatives, and MSNBC is for liberals. CNN, undergoing a facelift administered by Jeff Zucker, seems to be dedicating itself to tabloidy breaking news and politics that avoids easy left-right categories.
AJAM's promise boils down to more hard news: 14 hours of daily live news, news updates at the top of every hour, documentaries, investigative reports, eight to twelve-minute news pieces, and fewer commercials. But is this what Americans want? Some defenses of AJAM forget that PBS (and the BBC) already exists and is not thrillingly popular among American TV households. NPR has its own oligopoly on serious radio news. If this new channel is basically Al Jazeera English tailored for the PBS/NPR audience, we can expect a left wing approach on foreign affairs, where the U.S. Syrian rebels are activists and the Arab Spring is an unalloyed good.
What makes AJAM truly odd and unpredictable, though, is that nobody knows what its metrics of success will be, because its success is not riding on market viability. It's riding on Qatar's approval. The financial well for coverage of uncovered issues, the money to hire talent, the desire to keep open bureaus - all of this depends on the good will of a benefactor whose intentions are still inchoate. AJAM is relieved from some the market pressures to produce simple infotainment for a massive audience to quickly gin up ad revenue and subscription fees. We don't know yet whether that will make AJAM must-watch-TV or not watched at all.