Why Is Jack Lew So Optimistic About the Economy?
The treasury secretary's upbeat predictions about growth, immigration reform, and U.S.-China relations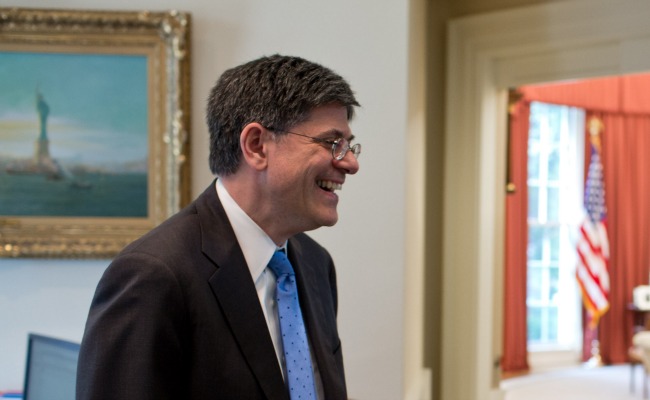 Wikimedia Commons
The U.S. Treasury Secretary is feeling optimistic. Despite some long-term problems (such as weak job growth and income inequality), Jack Lew believes the economy is on the way up.
"I think there are a lot of signs that there is a real recovery underway -- you see it in virtually every sector," he said during an interview at the Aspen Ideas Festival on Sunday. "The GDP growth, unemployment rate, job growth -- none of it as fast as we would like, but directionally, for four years, moving in the right direction. I'm way too superstitious to say that everything will continue without any bumps in the road -- even in a healing, healthy economy, there are certainly bumps in the road. But we've seen a resilience that's shown through in a remarkably broad series of measures in the economy."
His positive outlook isn't limited to the recovery. Despite the Edward Snowden controversy, Lew said economics relations between the U.S. and China will remain strong.
"I think that even since I've been Secretary, the brief four months, the U.S.-China relationship has been growing and evolving. When I was in China just a couple of months ago, it was the first meeting the new leadership had with any foreign delegation. There are always going to be challenges between the United States and China. [But] the list of issues that we raise with them ... is happily the same list of issues that they need to deal with to make their economy work. The fact that there are other issues that do come up between us can't become an issue as we talk about the core economic issues," he said.
Lew acknowledged that cyber security is a major source of diplomatic tension between the two powers, but emphasized the importance of concentrating on areas of shared priorities.
His most resolute prediction, however, had to do with immigration. He spoke about the need for immigration reform mostly in economic terms, but he also offered a moral imperative: "I think immigration reform will pass. I think that this is going to be a process that will have bumps in the road before they're done, but it's going to have to be a bill that can pass in the Senate that the President signs into law. We need to do this for the sake of our economy and for our values."
David Leonhardt, the New York Times Washington bureau chief who interviewed Lew, offered some counterpoint. He argued that the country's economic leaders have been consistently over-optimistic about economic growth. Other factors point this way, as well, he said: Unemployment is still hovering around 7.5 percent, and long-term unemployment remains a huge problem. Diplomatic relations with China have been particularly tense in the last couple of weeks due to China's role in the Snowden affair and controversy over cyber security issues like trade secret theft. Finally, although immigration legislation has passed in the Senate, its future in the House is much less sure. Regardless of any moral imperative, it's unclear that any sort of compromise will be possible.