Weird Is Good: What Portland's Economy Can Teach Every City in the World
Easily dismissed as a hippie's post-capitalist dream, Portland has discovered that quirkiness and differentiation is simply good business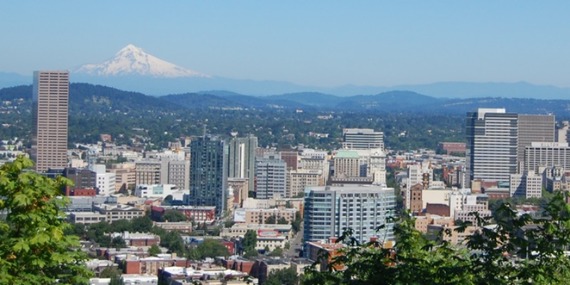 Wikimedia Commons
Portland, Oregon, a prosperous metropolis of 2.2 million people, has one of the most recognizable brands in the United States. It regularly makes popular top 10 lists for most green or eco-friendly cities, and for good reason. Portland is the first U.S. city to enact a local plan to reduce C02 emissions and has been a pioneer in green building initiatives.
The metropolis runs a comprehensive system of light rail, suburban commuter rail, buses, and bike lanes and residents recycle more than half their waste. In the 1970s, Republican Governor Tom McCall pushed through an urban growth boundary law aimed at curbing sprawl at the periphery and promoting reinvestment in the city. Governor McCall and others also initiated a successful effort to tear down a 1950s freeway along the Willamette River in downtown Portland, replacing it with a waterfront park.
Liberated from concrete, the downtown houses microbreweries and cutting edge restaurants and has become a magnet for aspiring musicians, artists and techies. The hit TV comedy called Portlandia embraces the "weird and crunchy" character of the city.
Yet Greater Portland -- a seven county region encompassing the cities of Portland, Vancouver, Gresham and Hillsboro -- is also one of America's most export-oriented and globally integrated economies.* Over 18 percent of its metropolitan gross product comes from exports, the third-highest export intensity in the United States among the top 100 metros and the second-fastest-growing export market among the major metros.
"Weird and crunchy" Portland, it turns out, is also the home of Silicon Forest, a robust cluster of computer and electronics firms. The Forest was initially planted in 1946 when four returning war veterans started Tektronix to invent and manufacture oscilloscopes. Tektronix grew to be one of the top manufacturers of test and measurement instruments and, over time, spun off dozens of start-up companies. In 1976, the semiconductor maker Intel started up in Silicon Valley. Portland was conveniently close to Silicon Valley, with a lower cost of living and inexpensive raw materials for manufacturing (like water and electricity). Soon thereafter, Intel moved a cadre of engineers to Portland, and a Portland-based team developed the company's signature Pentium chip. Portland's computer and electronics manufacturing cluster now employs 33,200 people, and it is the region's top international export industry, accounting for 57 percent of the its total exports and 63 percent of export growth between 2003 and 2010.
'Not Just Us Selling Each Other Microbrews'
In his 2010 State of the Union, President Obama issued a challenge to the country: "We need to export more of our goods. Because the more products we make and sell to other countries, the more jobs we support right here in America."
The Portland leadership community rose to the challenge. The metropolis had been hit hard by the Great Recession, shedding 80,000 jobs and seeing unemployment rise to over 11 percent. Led by Portland's then Mayor Sam Adams and the Portland Development Commission, a team of business and civic leaders sorted out how to double the region's exports. They dug deep into the data, deconstructing their economy. From this intense assessment emerged the Greater Portland Export Plan, which outlined several strategies to leverage the region's dual strengths: its leading global position in computers and electronic products manufacturing and its global edge in sustainability. In order to build on the region's strengths in sustainability, the plan has launched a major marketing campaign called "We Build Green Cities" to promote the region's clean tech companies and products as solutions for global clean economy challenges.
The future of the metropolis is "not just us selling each other microbrews," Tom Hughes, President of Metro Council, said. "What you really need is a culture where manufacturers or entrepreneurs begin to include foreign markets as part of their business strategy." Portland companies have primarily looked east to Asia for their markets. But there is also enormous potential and need in our hemisphere. After a trip to Brazil, Mayor Sam Adams established a formal relationship with Sustainable Hub, a São Paulo-based clean tech consulting firm, to help Portland firms crack the Brazilian market and vice versa.
What Makes Cities Special
Portland is not the only U.S. city attempting to organize for trade. Los Angeles and Syracuse are implementing export strategies that leverage their distinctive trading position. Miami, Savannah, and Norfolk have made transformative investments in their seaports and related logistics infrastructure to accommodate the larger ships that will move goods after the expansion of the Panama Canal.
The common thread through all these efforts is differentiation. Post-recession, U.S. metros seem to be rediscovering what makes them special, the distinctiveness of what they make or provide and sell to the world, rather than what makes them the same. Today, as Portland demonstrates, notions of globalization recognize that all cities are fueled, to different degrees, by global investment and connected, in distinctive ways, via global commerce and exchange. Peter Marcuse and Ronald Van Kempen use the term globalizing cities to reflect that: "...(almost) all cities are touched by the process of globalization and ... involvement in that process is not a matter of being either at the top or the bottom of it, but rather of the nature and extent of influence of the process."
The global economy is essentially operating as a network of globalizing metros that naturally trade together because of natural links between their major companies and universities, driving economic clusters and financial and migration flows. Portland shares a common focus on sustainable development (and an emerging cluster of like minded firms) with Copenhagen, Stockholm, Curitiba, and Singapore. Madrid, Hong Kong, and Dubai are centers of media and information. Nagoya, Stuttgart, and Detroit are globally significant manufacturing hubs. The Hague, Brussels, Washington, New York, Geneva, and Nairobi are centers of global decision-making. Boston, Cambridge, and Nanjing are important nodes in the global academic network.
A new global map is being drawn in the world, not of nation-to-nation trade but of metro-to-metro exchange based on distinctive clusters, specialized expertise and cultural affinity.
---
This article was adapted from the book The Metropolitan Revolution by Bruce Katz and Jennifer Bradley.
* This sentence has been edited to clarify that is referring to the Greater Portland metro area, not just the city of Portland.