The Silicon Prairie: This is Not Your Grandfather's Farm
GPS-guided tractors, precision-planting software, and more are revolutionizing farming--and Sioux Falls' agriculture industry.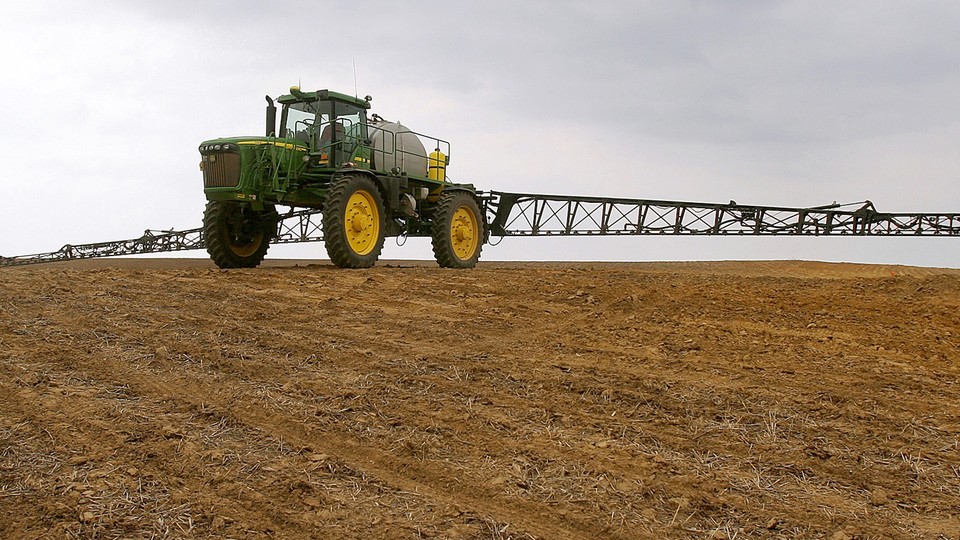 This article is part of an America 360 series on Sioux Falls.
SIOUX FALLS--The past and future of Sioux Falls' agriculture industry sit just a mile apart from each other along the east bank of the Big Sioux River that runs through this city. To the north is the John Morrell meat-packing plant, now operated by Smithfield Foods, which was itself purchased earlier this summer by China's largest pork processor. Across the street from the Morrell plant, it's hard to miss the sight and smell of a stockyard that was once was one of the largest in the country. Meanwhile, just downriver from Morrell is the headquarters of Raven Industries, a leader in precision agriculture technology, housed in a former biscuit factory that is all glass windows and exposed brick.
Instead of stockyard and slaughterhouse workers, Raven is populated by engineers, programmers, and marketers in row after row of cubicles. Former Rep. Stephanie Herseth Sandlin, D-S.D., is the company's general counsel. Far from being up for purchase by overseas buyers, Raven is bringing its approach to more efficient, high-yield farming to customers in China, South America, and other major agriculture markets around the globe.
Agriculture has driven the economy in South Dakota since settlers arrived in the 19th century, with ranches flourishing in West River and crops providing a mostly-solid livelihood across the state. But agriculture played a particularly key role in the growth of Sioux Falls as the state's largest city. At the turn of the 20th century, there were just some 10,000 residents in Sioux Falls; by 1920, after the Morrell plant was built and opened, the population had grown by 150 percent to nearly 25,000 in what would be the city's largest growth spurt.
As agribusiness has taken over family farms, though, and food processing has been consolidated by giant corporations that have closed plants across the Midwest over the past decade, the agriculture industry needed to change. Individual farmers had always tried to be efficient, cutting costs where possible and doing what they could to produce a high crop yield. But the development of precision agriculture technology has made that much more possible--and given Sioux Falls a newly thriving agriculture industry with global reach.
Raven Industries, which first started in Sioux Falls in 1956 as a maker of high-altitude research balloons, started a precision agriculture division (officially, it's the Applied Technology Division) in 1978. Today that division is run by Matt Burkhart, who describes its mission as helping farmers find "the holy grail."
"Precision agriculture products help farmers save on input costs by precisely planting every individual seed in the right spot, by precisely putting down the right amount of fertilizer and chemicals--no more than you need--in precisely the right areas," explains Burkhart. "And by doing that, it ultimately increases the yield. That's what every farmer is looking for."
The technology that Raven develops and sells uses GPS to auto-steer tractors and combines down fields as they plant according to maps produced via agronomy software packages. In more fertile parts of a field, the technology can increase the population of plants, just as it can lower the population in hilly or sandy parts that don't retain water as well, saving farmers extra money on seeds and fertilizer. If that sounds worlds away from the image of a solitary farmer steering a small tractor across a few acres, it is. And with extreme weather patterns, it's become even more important for farmers to have the ability to plant quickly and efficiently.
"Especially with the weather patterns in the Midwest, farmers had a very tight planting window this year," says Burkhart. "The U.S. tied a record this spring for the most acres planted in one week." Ever larger pieces of equipment--some planters can be up to 120 feet wide--help make that possible. But so does precision technology, which reduces the stress and fatigue required to operate that equipment and allows farmers to work longer hours. Last year's drought conditions across much of the country also posed challenges by raising the stakes for determining the exact amount of chemicals to use and how many seeds to plant so that they weren't competing with each other for water and nutrients.
Raven's precision agriculture division has just under 500 employees, while the corporation as a whole employs around 1,400--most in Sioux Falls. Last year the division brought in around $172 million in revenue, and more than a quarter of its sales came from international buyers, a market Burkhart believes will only keep growing. "The demand to feed the world is not going away, and is in fact becoming larger and larger with population growth," he says. "Farmers and producers around the world have to be more efficient with food production."
Large-scale agriculture continues to pose concerns about its environmental impact that cannot be ignored. But while it sounds like something out of an ADM commercial, there is growing agreement that precision agriculture can be better for the environment. Reports from the U.S. Department of Agriculture have praised the technology for making it possible for growers to apply the exact amount of fertilizer and chemicals that plants need to consume, reducing the chances of runoff into groundwater. Even papers from some conservation groups like the Arbor Day Foundation express cautious optimism that precision technologies can help farmers target specific areas for pesticide application instead of relying on blanket approaches.
The original piece of Sioux Falls' agriculture industry hasn't gone away--the Morrell Plant is still the city's third-largest employer. But the plant is aging and has faced multiple violations for dumping pollutants and slaughter waste into the Big Sioux River. Smithfield has closed other Morrell plants in the past few years, and the old Sioux Falls plant could potentially face the same fate. Whatever happens to the local food-processing sector, Raven Industries is providing a model for Sioux Falls of how to succeed by taking on the future of agriculture.