The Immigrant Lending Circles That Pave the Way to Citizenship
Becoming a U.S. citizen isn't just politically difficult--it's expensive, too.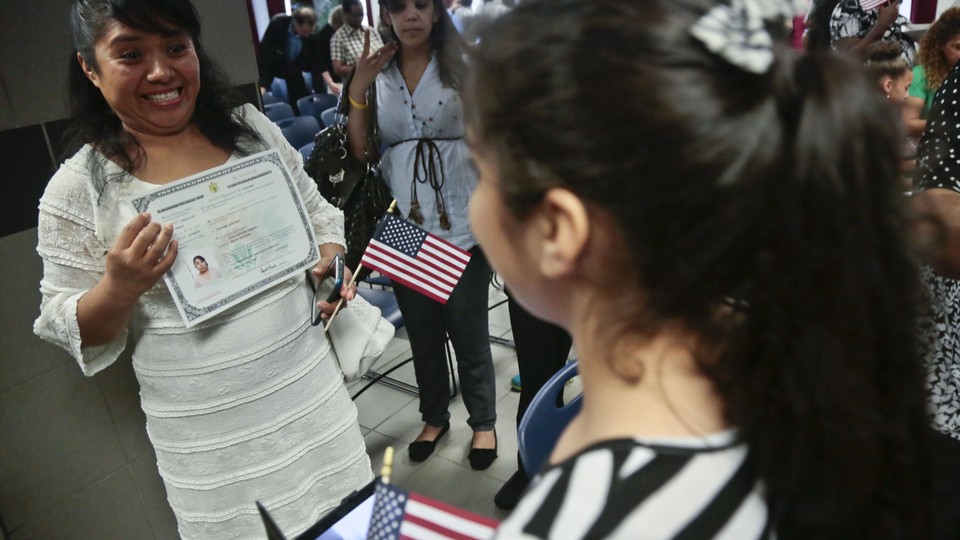 When Olivia Velazquez and her husband, Javier, launched a catering business in 2010, they had drive and experience — but messy personal finances. "My credit was awful," Olivia says. In the decade since the family moved from Mexico to San Francisco, they had learned the ins and outs of the restaurant business. What they hadn't figured out was how to manage credit cards or make putting savings aside a monthly habit.
That changed when the couple joined a lending circle at Mission Asset Fund, a nonprofit headquartered in San Francisco's Mission District. After just 11 months of participating in the peer-to-peer lending program, Olivia's credit score went from below 500 to about 670. Kicking themselves for not joining earlier, Olivia and Javier enrolled their daughters, Fernanda and Andrea, in a MAF lending circle that helps young people build a credit history while also finding ways to finance applications for Deferred Action, the federal program that allows young undocumented immigrants to avoid deportation and obtain work permits.
Mission Asset Fund uses traditional lending circles to transition low-income immigrants into the U.S. financial system. Participation in a MAF lending circle, or cesta, raises the average client's credit score by 168 points and reduces debts by $1,000, a recent San Francisco State University evaluation found. After five years and $2 million shared through approximately 1,900 no-interest, no-fee loans, MAF has a repayment rate near 99 percent. Now the organization has franchised its model nationwide, proving that lending circles can work for communities other than Latinos in the Bay Area.
As the House GOP leaders decide whether to consider immigration reform legislation, MAF's model for using lending circles to finance immigration applications could soon be in the spotlight. Should Congress approve a pathway to citizenship for millions of undocumented immigrants, organizations nationwide will be looking to smooth the process for eligible applicants. MAF's model provides a simple solution: letting communities finance applications themselves.
When MAF's founders got together in 2007, they realized that many of the Mission District's Latinos were all but invisible to banks. "About 50 percent of our target market did not have a bank account or a savings account," says José Quiñonez, executive director of Mission Asset Fund. Forty-four percent of households in the Mission had no credit score at all, a 2008 study from nonprofit Social Compact found.
In the U.S.'s credit-based financial system, those who can't access low-cost loans find it very hard to get ahead. "Without a credit score or credit history, people can't buy cars, they can't buy houses, they can't get loans to start businesses--they can't even get an apartment or get a job in some instances," Quiñonez says.
Immigrant and low-income communities nationwide face similar problems. Nineteen percent of foreign-born noncitizen households have never had a bank account, according to the Federal Deposit Insurance Corp.'s annual survey. A federally insured checking account provides a safe place to store a paycheck and is a point of entry into the larger financial system. But many people may not understand how to open a bank account or may not know that they're eligible to open one. The same goes for using a credit card and building a good credit score.
Yet unbanked communities still save and lend money. In Mexico, friends and family team up to form informal, rotating credit associations called tandas. The group agrees to contribute equal sums of money to a shared fund each week or month, and each week or month one person gets to go home with the pooled total. Tandas give participants access to lump sums that would otherwise be beyond their means, and there are no fees or interest attached. Many communities in the U.S. with Mexican roots continue to use tandas.
Participants in lending circles prove they're able to follow through on an obligation to a creditor, but lending circle activity isn't directly comparable to a bank loan. In a lending circle, the first person to receive the lump sum acts like a borrower: He's given money that he repays in installments. But the last person acts like a saver: He puts away small sums of money and gets it all back at the end. Everyone in between acts like a lender and takes their turn at being the borrower.
Quiñonez and his team had a breakthrough insight--they realized they could legally define contributions to MAF's lending circles as payments against a future loan. MAF clients sign a promissory note to that effect, which enables the nonprofit to report monthly cesta contributions to credit bureaus TransUnion and Experian. MAF guarantees cesta contributions, ensuring that participants won't lose their money if a rogue circle member defaults. To make it possible to manage a large number of circles electronically, MAF also requires clients to open checking accounts: a crucial first step into the U.S. banking system.
MAF's main office serves mostly Latina immigrant women who have heard about the cestas through friends or Spanish-language media. Some travel across the Bay Area to participate, and many meet their fellow cesta members for the first time in the initial meeting when the group decides how much money they'll share each month and the order in which they'll receive the total. The average MAF cesta consists of seven people, making $100 monthly contributions.
Cestas are bound together by a sense of community identity, Quiñonez says, and MAF is a trusted local institution. That bond keeps defaults low, and keeps clients eager to participate. Rather than trying to serve different communities at its headquarters, MAF has successfully partnered with nineteen community organizations in six states. Partners organize lending circles, reaching communities from Filipino immigrants to LGBT Americans; meanwhile, MAF services, reports and guarantees the loans. The arrangement allows MAF, an 11-person organization, to manage scores of lending circles simultaneously.
MAF's community focus has allowed it to pinpoint a need that bigger financial service providers may never have noticed. To low-income immigrants, the $680 citizenship application fee can seem unimaginably high; the same goes for the $495 application fee for Deferred Action. MAF put together targeted lending circles to address this need, including a charitable match from MAF's partners and donors that reduces the cost of the applications. Instead of a lump-sum payment, participants in these circles receive checks made out to the Homeland Security Department. They build credit just like participants in the cestas.
"We really are thinking about what's going to happen with immigration reform," says Robert Annibale, head of Citi community development and microfinance, a philanthropic supporter of MAF. No matter when, and in what form, Congress figures out how to give undocumented immigrants a path to citizenship, the path will likely be complicated and costly. Community-based lending circles could be one way to transition eligible applicants into American life while at the same time building their financial capacity.
Olivia and Javier's catering menu is as multicultural as it gets--mole poblano, beef lasagna, and thai wraps speak to the Bay Area's global heritage. "There's a lot of potential that immigrants have, and we need to unlock that value," Quiñonez says. Just like a good credit score or a naturalization certificate helps individuals thrive, an upwardly mobile immigrant community can be an asset for a city like San Francisco.