The Coffeehouse That Political Consulting Built
Steve Hildebrand knew field operations better than anyone in politics. Now he serves espresso and panini to the people of Sioux Falls.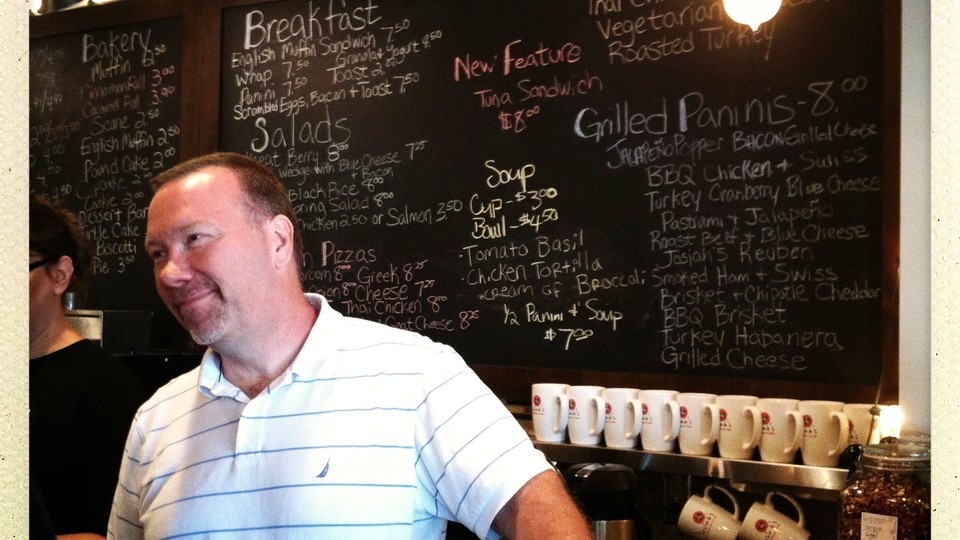 This article is part of a weeklong America 360 series on Sioux Falls.
SIOUX FALLS — I walked into Josiah's Coffehouse & Café on a recent Friday morning in search of Steve Hildebrand, the longtime Democratic operative who developed the crucial field operation that helped Barack Obama win the Democratic nomination in 2008. "He's in his office," said the young woman behind the counter, pointing over my shoulder. It turned out I'd walked right through Hildebrand's "office": the sunny lobby of the Lumber Exchange Building adjacent to Josiah's, where he was settled into an armchair with a laptop perched on his knees.
Hildebrand opened Josiah's one year ago, and — perhaps improbably — has all but quit political life since then. Oh, he still retreats to his laptop between the breakfast and lunch rushes to post political commentary on his Facebook page — recent items have included digs at Texas Republicans and celebration of the Supreme Court's decisions in the DOMA and Prop 8 cases. But when I begin to ask Hildebrand whether he misses politics, he cuts me off with a curt "No."
As he tells it, Hildebrand decided in early 2012 to get out of political consulting and "try something different, take a risk in the restaurant business, which can be dicey." He had already started to break away, readily and vocally voicing his disappointment when he disagreed with the Obama administration. Hildebrand — who turns 50 this year — had also spoken openly about struggling with depression during the 2008 cycle (he declined to elaborate on the campaign experience), as well as his growing reluctance to spend more time away from Sioux Falls, where he and his partner of two decades share a home. (Hildebrand grew up in Mitchell, S.D., an hour outside Sioux Falls.)
So with a tenacity that would not surprise his campaign colleagues, Hildebrand set out to design his ideal coffeehouse and restaurant. He found a special northern Italian-style roast in Seattle, arranged for the beans to be shipped directly, and brought in an expert to train his staff on making the perfect espresso. He drew on years of home cooking to develop recipes for everything from ginger scones to fig, prosciutto, and goat-cheese pizza.
The coffeehouse is named after Josiah Phillips, who founded Sioux Falls in 1857, and its walls are covered with old maps of the city, as well as bios of the Phillips family. A fireplace made of local pink Sioux quartzite is decorated with a photo of Josiah himself. "Phillips Avenue is very prominent in our community, but most people never ask the question: Who was Phillips?" Hildebrand says. "I wanted to pay tribute to a guy who founded the community but who died at an early age — he died at 47 — so a lot of people just never knew about him."
Not surprisingly, Josiah's is something of an unofficial spot for local Democrats. Hildebrand hosted George McGovern's 90th birthday party there last summer, just two months before the former senator and presidential candidate died. On the morning of the Supreme Court's gay-marriage decisions, a handful of active Democrats congratulate Hildebrand, and one former colleague embraces the self-professed hug-a-phobe.
The past few years haven't been great for small-time entrepreneurs — small business optimism fell to its lowest rate in 20 years in 2009, according to the National Federation of Independent Business, and it still hasn't recovered to pre-recession levels. So ditching a decades-long career in politics to open a restaurant wasn't the safest bet Hildebrand could make. But Sioux Falls was definitely the place to make it.
Over the past decade, the unemployment rate in Sioux Falls — the largest city in South Dakota — has averaged around 4 percent. Instead of cutting back during the recession, key local industries such as health care and agriculture expanded. Most important, the city's once-moribund downtown has been redeveloped and is now a walkable shopping and restaurant district. Josiah's, in the newly dubbed Eastbank neighborhood, is directly across the Big Sioux River from the heart of downtown and hundreds of new apartments and condominiums.
"The risk in opening a business like this is less than it used to be because there are so many more people living down here," says Hildebrand. "We have a new hotel being built on the river and a new convention space that will bring even more visitors downtown on a regular basis."
A year in, Josiah's is doing well, although it's unclear whether Hildebrand's quest to get his fellow residents to eat quinoa has been as successful. (It's pronounced "keen-wah," the menu helpfully notes.) And Hildebrand has no regrets. "Politics just isn't as interesting as it used to be," he tells me. "The vast majority of politicians are in it for their own reelection and not doing what's best for the country or the state or the community. As long as that's the case, I don't really want to waste any of my time working for them. It's just not where my passion is."