Sorry, Twitter: 'Sharknado' Was an Enormous Ratings Bust
But a social media blockbuster of incredible proportions.
And so, when all the eyeballs and tweets were counted, the verdict was thus: Sharknado devoured Twitter but scared away viewers.
The SyFy movie about flying sharks and bad weather was seen by just over 1 million people. It had a 0.4 rating in the 18-49 demographic in early Nielsen numbers. That's not just a bust by cable standards. It's a bust by SyFy original movie standards. "Most Syfy originals have an average viewership of 1.5 million people, with some getting twice that," Claire Suddath reports.
The peculiar thing about this bust was that it was a social media blockbuster. There were more than 600,000 tweets sent about the movie between 8pm and 3am last night (fewer if you go by Nielsen's numbers), which is two tweets for every three people in America watching Sharknado. That's particularly strange since Syfy original movies have an average viewer age of 52, and fiftysomething guys are a bit off the key demo for Twitter.
Let's compare audience and tweets to another viral show, Games of Thrones and its "Red Wedding" episode.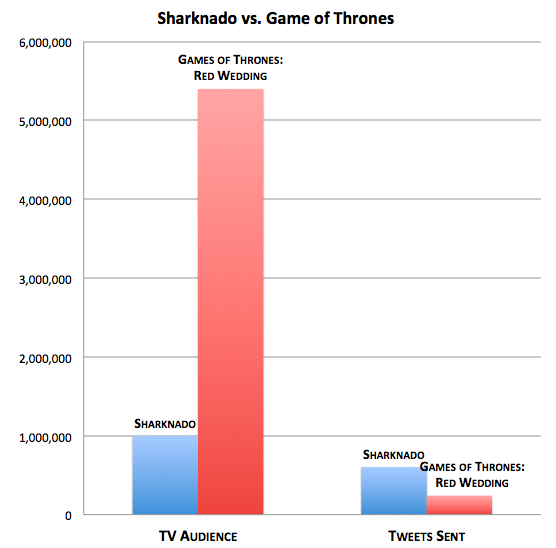 With more social media love but a much smaller audience, Sharknado had 13 times more tweets-per-viewer than one of the most tweeted-about shows on TV.
What does it all mean? On the one hand, a ratings bust is a ratings bust. On the other, the SyFy Channel, like most cable networks, makes most of its money not from advertising but from subscription fees negotiated with cable companies. If they can make the case that their stuff is viral and a hit with famous media people with big Twitter followings then, hey, maybe they'll get a higher affiliate fee in their next negotiation round. But the real conclusion is that the overlap between the meme-hunting Twitterverse and the larger world of families with TVs in the living rooms isn't as massive as we thought.