Please Don't Be Satisfied With This Jobs Report
The labor market continues to be consistently, maddeningly mediocre.
Another month, another jobs report that's good, but not quite good enough.
Employers beat expectations in June by adding 195,000 new workers to their payrolls. Thanks to the government's data revisions, we know they added 195,000 in May as well, and 199,000 in April (as shown in the Washington Post graph below). Over the past year, we've averaged 191,000 per month. Over the past 6 months, we've averaged 202,000. We're nothing if not consistent. 
Which means we've still got a long slog ahead.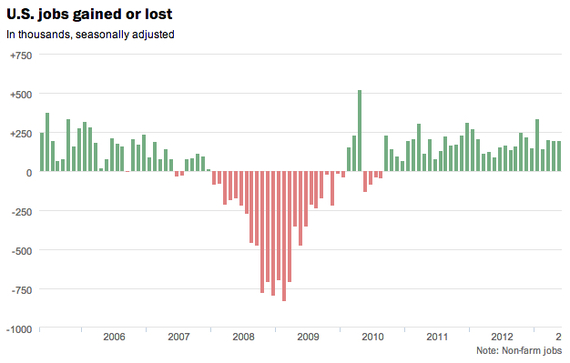 Unemployment is still hovering at 7.6 percent, unchanged this month thanks to an influx of new workers into the labor force. Brookings
projects
that we'll still be above 7 percent by the end of the year. Meanwhile, there are still 2 million fewer workers on U.S. payrolls than at our pre-crash peak. If you assume we'll keep adding jobs at our 6-month average pace, we're looking at 10 to 11 months before we get back to where things were before the market fell apart.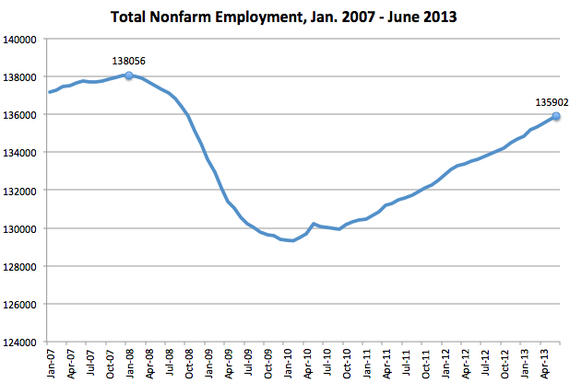 When you account for new workers entering the labor market, the Hamilton Project projects it will still take us more than 7 years to get back to full employment at our current pace -- assuming we miraculously avoid hitting another recession during that time.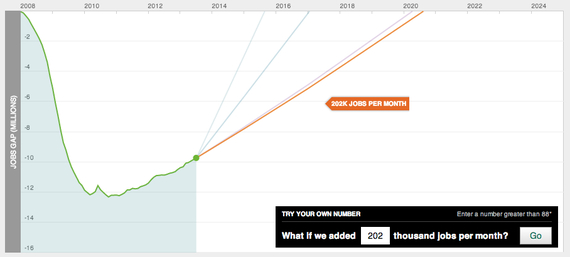 You can see the weakness of the job market all over the current report as well. The government's broadest underemployment measure , known as U-6, jumped from 13.8 percent to 14.3 percent, thanks a huge leap in the number of employees working part time because they couldn't find full-time work. Meanwhile, hiring in middle-income industries was weak. Construction employment only rose 13,000. Manufacturing payrolls fell, right along with state and federal government. And the economy is making up for it largely with retail and restaurant work.
We've had a few months of decent news. It's no reason for anybody to be satisfied.