How Watching 'Unbundled' ESPN and AMC Could Cost More Than Your Whole Cable Bill
ESPN would cost as much as $30 a month if you yanked it out of the cable bundle and made it a standalone service, according to new analysis from Needham Insights.

I asked a friend from the cable industry to forward the entire 34-page report to me, and here's the money chart (click to enlarge).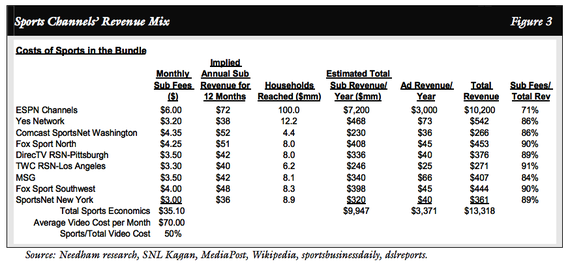 Lots going on here, so I'll direct your attention to two places:

(1) First column on the right: Subscription fees skimmed off your cable bill account for between 71 percent and 91 percent of sports channels' revenue mix. The best business model in entertainment is one that most TV-watching families don't even know exists.
(2) First row, fourth column: ESPN makes as much as $7.2 billion each year before counting a cent of advertising. Before counting a cent of advertising. Needham's estimate is the highest I've ever seen, but not totally out of whack with others.

Starting to make up that $7.2 billion among a smaller cohort of pay-TV households would require each household to pay much more for today's ESPN. "We believe that only 20 million super-fan homes would pay $30/month for ESPN's group of channels," the authors write, which is "equivalent to 100 million households paying $6/month today."
A similar experiment with AMC would produce even more striking results. If AMC receives $0.27 from 90 million households each month, that's $24 million a month. Let's make a generous assumption that every person who watches "Mad Men" live (or a third of households that watch "The Walking Dead") agreed to subscribe to the standalone network and had to replace its full cost.

That's 2 to 3 million household paying about $10 a month.

Today, the typical household pays a little under $40 a month in total subscription fees to all of the networks. So, $30 for standalone-ESPN plus $10 for standalone-AMC is already equal to or more than the total programming costs in your cable bill right now. In simpler English: TV just got more expensive with just two a la carte channels.

You could respond to this by saying that, in an unbundled world, ESPN and AMC would probably downsize to meet the economic realities of their audience. And fine. But the big point is that a la carte seems to many people to be technologically inevitable, economically efficient, and unquestionably good for consumers. The best I can say is: I almost agree with the first part.