How Citibank Made South Dakota the Top State in the U.S. for Business
Little South Dakota (pop. 833,000) holds $2.5 trillion in bank assets — more than any other state. Here's why.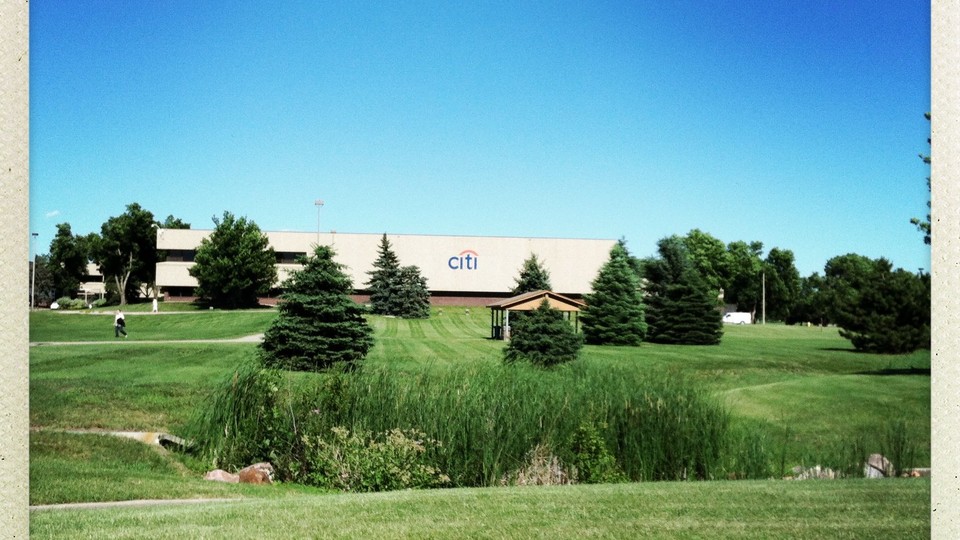 This article is part of an America 360 series on Sioux Falls. 
When the international banking giant Citibank moved its credit-card operations to Sioux Falls, S.D. in 1981, it altered the small Midwestern city overnight. With a population of barely 80,000 at the time, Sioux Falls still had an economy built on agriculture and meat-packing. But when state leaders, desperate to attract outside businesses during the economic recession of the early 1980s, changed South Dakota's usury laws to eliminate the cap on interest rates and fees, Citibank came calling.
The company initially promised to bring 500 jobs to the area and to build a large facility in northwest Sioux Falls. Citibank now employs more than 2,900 workers in the city, and it anchors a financial sector that provides more than 16,000 jobs in a metro area with a growing population of nearly 230,000 residents. And according to the Federal Deposit Insurance Corp., South Dakota holds more bank assets — $2.5 trillion — than any other state in the country.
At the time, South Dakota was the only state with this unusually lax approach to banking laws, and Citibank was soon joined by Wells Fargo, Capital One, First Premier, and other financial institutions that were eager to relocate their credit-card operations to the Mount Rushmore State. A handful of other states, including Delaware and Nevada, have since followed suit, but other tax incentives such as the absence of personal and corporate income taxes — South Dakota eliminated both in the 1940s — provided a significant draw. (South Dakota does have higher-than-average property taxes and levies a franchise tax on financial institutions.)
Not every state could, or would, have done what South Dakota did to court Citibank. The deal was breathtakingly quid pro quo, with then-Gov. Bill Janklow's chief-of-staff leaving to become president and CEO of Citibank South Dakota. But it set up some unanticipated indirect consequences that have benefited the state, and especially Sioux Falls, in the decades since.
Most important, Citibank committed to expanding its workforce in Sioux Falls and recruiting locals for its financial-management training programs. That has allowed several generations of workers the opportunity to gain experience in the financial sector that simply isn't available in any other town of that size, and it provided an experienced, educated workforce for the other financial institutions that began bringing their credit- and bankcard operations to town. Without Citibank, a local college graduate who wanted to work in high-level banking would probably end up moving to Chicago or New York City to gain the necessary training and exposure. Instead, Sioux Falls has an entire managerial class that trained locally — and stayed local.
When Sioux Falls Mayor Mike Huether graduated from college in 1984, he says, "the opportunities were limited, except for this new business in town. I went into Citi and told them I wanted to be a management associate — I want to learn about corporate America in corporate America." Huether spent 15 years working for Citibank, first in Sioux Falls, and then in New York and San Antonio, before moving back home to locally owned First Premier. Huether's predecessor, Dave Munson, also built his career at Citibank, spending 20 years as a government-affairs executive before running for public office.
Indeed, the ranks of local business leaders are filled with Citibank alums. Carl Rapp learned the ins and outs of cybersecurity at Citi's credit-card operation and is now a nationally recognized manager of key data centers, several of which are located in Sioux Falls. Another Citi veteran, Jim Meyer, runs Target's credit-card processing division, based in Sioux Falls. Randy Derheim, who spent decades in Citibank's marketing department, is now a partner with Pinnacle Hospitality, which owns several of the city's popular restaurants.
"Things have spun out of Citi and provided talent for other banks in the financial-services sector," says Slater Barr, president of the Sioux Falls Development Foundation. "It's very unusual to get that kind of churn and talent pool to draw on." When other companies look into the possibility of relocating parts of their business to Sioux Falls, they're usually surprised, Barr says. "I don't think they expect to find those skills in our community — and certainly not to the level that exists."
The existence of a strong financial sector that requires a high level of cybersecurity has also led one local university to develop programs to train students in the field. Dakota State University in nearby Madison offers bachelor and master's degrees in information assurance, and the school is certified as a Center of Academic Excellence by the National Security Agency. As of 2009, the university is also home to the National Center for the Protection of the Financial Infrastructure, whose researchers work with government and industry leaders to develop security policy.
Perhaps the most unusual industry that has emerged with a link to Sioux Falls' financial sector is a growing group of mail-order pharmaceutical companies such as Cigna Home Delivery Pharmacy and MedVantx. These businesses need to keep the details of their customers' transactions and medical information secure, so they benefit from that local expertise. But they've also tapped into the efficient distribution network that exists in Sioux Falls. Over the past few decades, credit-card companies that need to get replacement cards to their customers overnight have demanded high-capacity, reliable overnight delivery services — a network that mail-order pharmacies now use to deliver prescription medicines to customers just as speedily.
You can debate the overall merits of credit-card companies and their often back-breaking interest rates and fees. But there's no question that the strong presence of Citibank in Sioux Falls has played a significant role in transforming a once sleepy agriculture-dependent town into a growing regional powerhouse with a number of thriving industries outside the financial sector and no signs of slowing down. Just this week, CNBC released its rankings of the top states in the U.S. for business. This year, there is a new winner: South Dakota.