How Amazon Became the King of Audiobooks
Recorded books are now a billion-dollar business, which Amazon dominates perhaps like none other.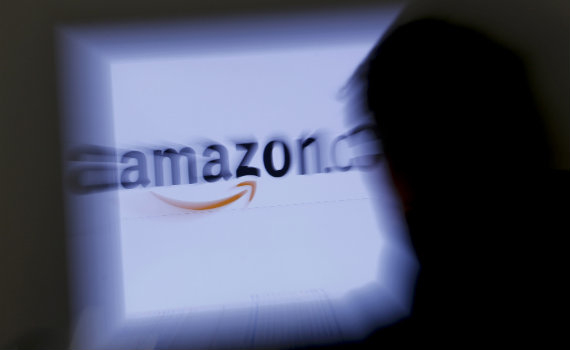 Wikimedia Commons
If you are a fan of audiobooks -- and the numbers of people who say they are has grown impressively in recent years -- the odds are that Amazon is your preferred place to shop. Of all the ways Amazon has come to dominate the book market, especially in the digital arena, its share of audiobook sales probably represents its most formidable pre-eminence.
At the last tally (now more than a year old), more than 60 percent of audiobooks were downloaded to digital devices, and nearly all of those came from Audible (an Amazon company) or through its long-standing license to supply audiobooks to Apple's iTunes. Amazon also owns Brilliance audio, the biggest producer of CD-based audiobooks. Audiobooks are now well over a billion-dollar business, and the available figures suggest that Amazon retains a far larger piece of that revenue than any other retailer.
Amazon is having an especially good run lately compared to major competitors in the book trade. Barnes and Noble's losses in Nook sales have become so large that the company is the subject of gloomy projections about its future. And Apple has suffered a resounding defeat in the Department of Justice's antitrust case alleging its conspiracy with major publishers to set e-book prices. Amazon has no such problems, and has actually been the beneficiary of the troubles facing these other companies. Whether the issue is the popularity of the Kindle in its various reading and tablet forms or the discounted pricing of most of its millions of books, consumers seem to be increasingly conditioned (or habituated) to the convenience of Amazon's one-click technology, its efficiency in service, and the vast scale of what it has on offer.
The power of Amazon's position as a bookseller in every respect is growing at a pace that makes publishers uneasy. With each passing year, the industry confronts an enterprise that can afford to be more aggressive both in its product promotion and in its negotiations. While Amazon's strategies on discount pricing and investment in infrastructure have kept its profits relatively low, shareholders are showing confidence in its prospects. Last week, on the day when Apple lost its antitrust case in federal court, Amazon's share price closed at $292.33, its highest ever.
Audiobooks are a particularly good example of how Amazon is recruiting its huge customer base. Amazon acquired Audible in 2008 for about $300 million, and now features well over 100,000 titles. Audible offers a membership model, which can amount to substantial savings over a la carte pricing.
Audible uses the clout it has amassed from this success to negotiate deals with publishers, who doubtless resent the low advances on offer -- $1,000 is typical -- for all but guaranteed bestsellers. But publishers are reluctant to pass up the opportunity to reach an audience of a size only possible on Amazon. With the CD market on a sharp downward curve, most bookstores have reduced their stock of audiobooks to a handful at most. In the next survey of audiobook use, which is currently being conducted, experts predict the digital percentage will surpass 70 percent.
While it has the overwhelming presence in audiobooks, Amazon is not the exclusive provider of them. There are a half-dozen or so independent producers, and the largest publishers maintain their own audiobook divisions and can sell downloads from their websites. Libraries prefer CDs, and some still carry audiobooks on cassettes, which have otherwise virtually disappeared. But Amazon's ability to serve the burgeoning digital demand is the reason it has achieved such a major place in the market. According to a recent story in The New York Times, Audible "says it produced some 10,000 recorded works last year." Donald Katz, Audible's founder and chief executive told the Times that the company employed two thousand actors to read books last year, "and he speculated that he was probably the largest single employer of actors in the New York area." While the Actors' Guild was unable to calculate the number for the Times, it did confirm that audio narration is "plentiful . . . (and) also lucrative enough to allow many of its members to survive on it."
Audible's momentum in audiobooks includes innovations that seem to be adding to its appeal. Along with the other subscription benefits, there is Whispersync for Voice, for example, which Amazon says allows you to "switch between reading the Kindle book and listening to the professional narration from Audible." Audiobooks are also available for as low as $4.99 if you purchase the Kindle version. And, there is something called the "Great Listen Guarantee" which enables the consumer to "exchange any book you don't like." For the consumer, these attractions are an indisputable plus. And assuming that the trend for greater output of audiobooks continues -- the Audio Publishers Association reported last winter that the number of titles in audio format had doubled in recent years -- Amazon's will surely exploit the market's potential as it has with e-books and print books as well.
Nearly half of audiobooks are still listened to by commuters, but the prevalence of digital devices makes it possible to multi-task, exercise, or work around the house, for instance. A current commercial on the Audible.com app has earphones shaped into a rose plugged into an iPhone, with Fifty Shades of Grey, the erotic bestseller, on the screen. As reported in the New York Times, a woman's voice says, "Enjoy a steamy romance while you're ironing the sheets." The earphones morph themselves into a sword, and the voice intones, "discover an historic battle while battling the bulge at the gym."
Amazon's book business clearly has a great deal going for it these days, and audiobooks are definitely a factor in that ascendency.