'For the First Time in History, There Are More Jobs Than People'
A look back at the sunny days of 1969, courtesy of a classic ad from The Atlantic's archives.
In January 1969, an advertisement for Careers Today magazine bemoaned the fact that, alas, America had reached the stage where, "for the first time in history, there are more jobs than people." While it used to be that "people resigned themselves to whatever jobs they could get just to keep bread on the table," that wasn't the problem of today.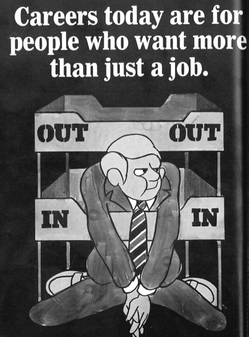 The ad conceded that college grads were still struggling to keep their heads above water, but not because of bills piling up. Instead, the real burden was wading through the endless number of job offers they were faced with choosing between. Sound familiar? I thought not.
It turns out the graduating class of 1969 wasn't much convinced either -- the publication, which Time magazine derided as "a job hunter's guide on slick paper," was cancelled after only four issues. "Subscribers were so few that they cost more than they were worth," Time explained.
The overabundance of work also appears to have been only a temporary phenomenon. By 1976, the year Richard Freeman published The Overeducated American, a relatively low 67 percent of college graduates were finding full-time employment within a year of commencement. For the recession-slammed class of 2008, by comparison, that figure was 65 percent.
Still, consider this a jobs report day reminder of what good times really look like.