Everything You Need to Know About Detroit's Bankruptcy
Here's how the Motor City got here, and where bankruptcy could take it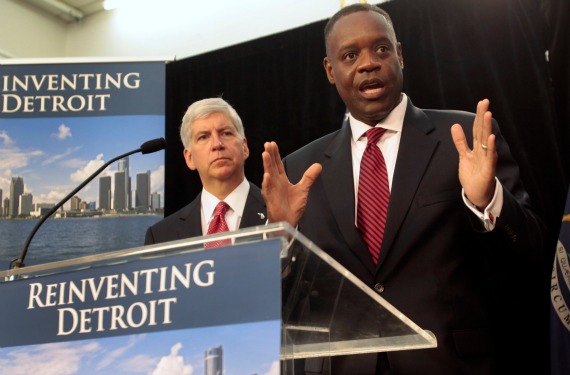 Reuters
After decades of decline, Detroit is broke. On Thursday, the Motor City filed for the largest municipal bankruptcy in U.S. history on its $18 billion of debt, and faces a future where only one thing is certain: lots of people are going to get much less money than they were promised.
Now, I don't like to say that something was ever inevitable, but Detroit's Chapter 9 bankruptcy sure looks that way. Since 1950, its population has retreated from 1.8 million to 700,000 today. And, as you can see in the chart below, via Nate Cohn of The New Republic, it's shrunk 26 percent in just the last decade. That's left a small tax base to pay for the pension promises of a more populous yesteryear.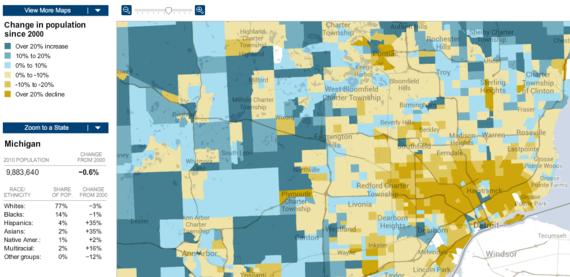 But why has Detroit's decline been of the far more terminal sort than other post-industrial cities? It's easy to say it's all about the city tying itself to the crumbling auto industry and nothing else, but that's not right: the Big Three have come back from the dead to boast healthy profits today, while Detroit is dying. The reality is the reverse. Detroit is on life support now, not because it's too tied to the carmakers, but because it's not enough. As Alec MacGillis of The New Republic points out, the Big Three -- along with wealthy and working-class whites -- decamped for the suburbs decades ago. Today, there are only two car factories left within Detroit's (vast) city limits. Gone are the solidly middle-class manufacturing jobs that had paved the city's rise. Indeed, Detroit had 296,000 such jobs back in 1950, and only 27,000 by 2011. The rump city is mostly poor and African-American, but still has a huge geographical area to provide services to. Detroit itself is 139 squares miles -- as MacGillis notes, that's bigger than Boston, Manhattan, and San Francisco combined -- and could probably use some downsizing.
Bankruptcy is probably Detroit's best chance to put some kind of floor under its collapse. With rising pension payouts squeezing out services, Detroit will only become more unlivable -- unless it hits the fiscal reset button. But it's not clear whether it can. Detroit Emergency Financial Manager Kevyn Orr filed for Chapter 9 bankruptcy now, and not later as many supposed, because it would shield the city from retiree lawsuits. But those retirees have already challenged the city's right to declare bankruptcy, and won -- at least for now. The question is whether Detroit can legally shed its pension obligations. The Michigan Constitution forbids reducing public pension benefits, and bankruptcy would certainly do that. Indeed, $9.2 billion of Detroit's $18 billion debt is owed to city retirees -- with $3.5 billion of that from unfunded pension benefits, and $5.7 billion from unfunded healthcare benefits, as you can see below from the Detroit Free-Press.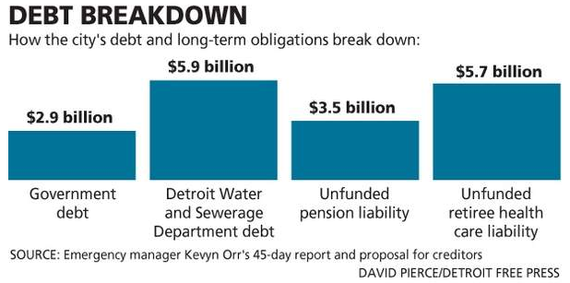 Now, as Sarah Kliff of the Washington Post points out, Detroit wants to offloads its healthcare obligations onto the federal government, but that would still leave billions of dollars of pension liabilities that would get gutted in bankruptcy. Detroit's two largest unsecured creditors are the unfunded pensions of its city workers and its cops and firemen -- which would get stuck fighting bondholders for whatever financial scraps the city has left. How many scraps are left? Well, last month Emergency Manager Orr offered these unsecured creditors just 10 cents on the dollar. Of course, in bankruptcy, some creditors could end up with more than that, and some with less -- that is, nothing. A good portion of these unsecured bonds are "unlimited-tax general obligation bonds," which are supposed to require the city to raise taxes as needed to pay back what it owes. In other words, they're supposed to be guaranteed. If they're not, they still have an argument that they should be senior to other unsecured creditors -- but then again, pensions were supposed to be guaranteed too. We might find out which of these guarantees was more meaningless.
The Great Recession didn't cause Detroit's problems, but it did give the city its final kick. Detroit had overpromised and underfunded its public benefits for decades, but had been able to paper that over. But the lost market gains and lost tax revenue from the bust meant they couldn't hide the holes in their obligations any longer. It's the same in cities and states across the country. As Josh Barro of Business Insider argues, some kind of federal insurance and regulation for these pensions could stop this cycle of retirees finding out they have far less than they'd been promised. Now, that would come at the cost of fewer workers getting these kind of promises to begin with, but that would be better than people planning their retirements around benefits that aren't coming.
It's a hard step to take, but Detroit needs to shake its fiscal past if it's going to have a future. That alone won't be nearly enough to turn things around, but it will give Detroit more than it's had in a half-century: a chance.