Will the McMansion Ever Die?
In the U.S., new houses are bigger than ever, and truck and SUV sales are climbing back.
McMansions with giant SUVs parked in the driveway were pretty much the epitome of middle class excess during the housing bubble. Then gas prices spiked, the crash came, and both houses and cars shrank a bit as Americans turned thrifty. 
But old habits die hard. While consumers aren't buying nearly as many houses or autos as they were before the recession, those who are seem to be back in the mindset that bigger is better. 
As Catherine Rampell reported yesterday for the New York Times, the median new, single-family home sold in 2012 was 2,306 square feet -- a new record, according to the Census bureau.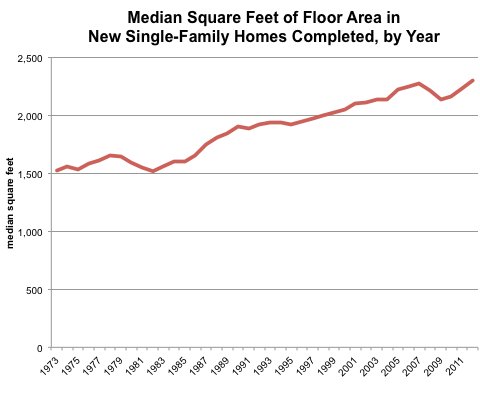 Meanwhile, 41 percent of those new houses had four bedrooms or more -- also a new high. This, despite the fact that the average home buyer lives in a household with less than 3 people.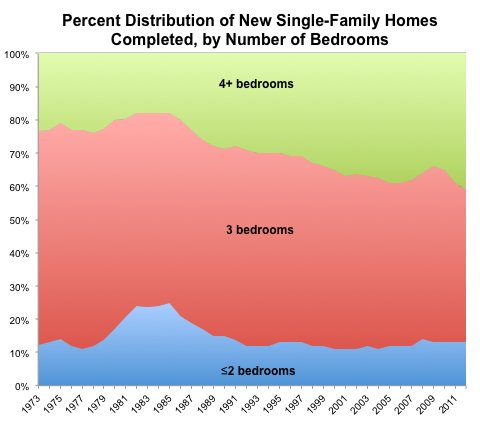 And how about those gas guzzlers? They're on the rebound too. More than 51 percent of new autos sold today are light trucks, a category which includes SUVs. That's right where we were in the Spring of 2007, though below the all-time peak of around 6 percent.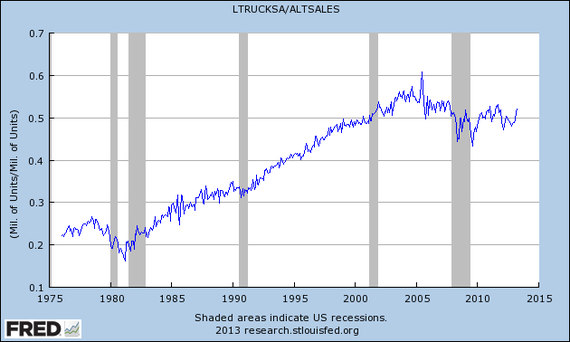 Now some caveats. The light truck category also includes increasingly popular crossover vehicles, which share some of the space and styling of SUVs, but are more fuel efficient. So the big cars being bought today aren't quite the same as the big cars that were being bought yesterday. Meanwhile, mortgage credit is hard to come by, and perhaps as a result, the average new home buyer is a bit richer than before the crash, according to the NAHB's data. That might partly explain our growing abodes, since wealthier families tend to buy larger homes. And as recession-scarred Millennials start entering the home market, there's a chance they'll start opting for smaller houses, as some real estate experts believe they will.
But sometimes it just feels like we never learn.