Why Are Markets Freaking About the Fed?
The t-word -- tapering -- has been bad for stocks and will be worse for the unemployed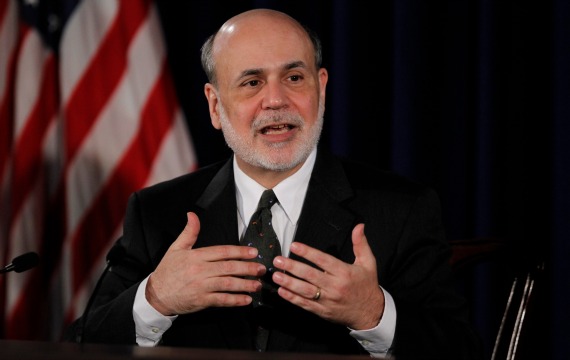 Oops, did I do that? (Reuters)
Ben Bernanke spoke, and bond markets sold off. Then every other market did too. It wasn't that the Fed announced it will do less today -- the dreaded "t-word" -- but rather how and when it will do less tomorrow (assuming, of course, the already weak recovery doesn't get any weaker). But for markets, just describing the beginning of the end of unconventional policies was little different from actually doing so.
With short-term interest rates stuck at zero, the Fed has had to get creative the past five years. Inflation has been too low, and unemployment has been too high, which, in normal times, means the Fed would have been cutting rates. But it can't now. Rates can't go negative or bank depositors would go into cash. But real rates can go negative if the Fed pushes up inflation. That's what the Fed has tried to do with its pair of unconventional policies: forward guidance and quantitative easing. The former means promising to keep short-term rates low in the future, and the latter means buying long-term Treasury and mortgage bonds. The question has been how and when the Fed will go back to normal. Bernanke offered a bit more clarity on Wednesday, and markets didn't like it one bit. Here's how it broke down.

Tapering. Markets have been obsessed with the t-word ever since Bernanke told Congress on May 22nd that the Fed may start slowing its $85 billion of monthly bond purchases in its "next few meetings". Remember, the Fed began this latest round of bond-buying last September, and, unlike previous ones, promised not to stop until labor markets improved "substantially". But what's substantial? Well, as Bernanke said on Wednesday, that's in the eye of the beholder, and in the Fed's eye it means unemployment of around 7 percent. If the economy grows like the Fed expects it to, Bernanke said they will likely start scaling back purchases later this year, and then gradually scale them back further until the purchases stop in mid-2014.

Interest rates. Last December, the Fed announced the so-called Evans rule: the Fed wouldn't raise rates from zero before unemployment fell to 6.5 percent or inflation rose to 2.5 percent. But, as Bernanke takes pains to point out, this is a threshold, not a trigger. In other words, the Fed won't necessarily raise rates when unemployment gets down to 6.5 percent; it just won't do so beforehand. Indeed, the Fed expects unemployment to hit 6.5 percent in late 2014, but 14 of 19 Fed members don't expect the first rate hike until 2015 -- and maybe the end of 2015, as Bernanke suggested.
Why are markets freaking out? After all, the Fed didn't announce any immediate policy changes: it's still buying $85 billion of bonds a month, and it still doesn't expect to raise rates for a looong time. But markets are forward-looking, and the Fed surprised them with how hawkish it says it will be in the future. Indeed, as Paul Krugman points out, when stocks go down, bonds go down, and the dollar goes up -- as is happening now -- it's a sign that investors are scared of a tougher Fed. Here's what's scaring them.
1. A more optimistic Fed. At the beginning of the week, Fed-whisperer Jon Hilsenrath of the Wall Street Journal said to pay close attention to the Fed's economic forecasts: if they maintained their outlook for the rest of the year, it would be a sign they were ready to start tapering by the end of the year. Well, the Fed actually revised up its growth forecast, and said that "downside risks ... have diminished since the fall." In other words, the taper is coming sooner than some had hoped.
2. But the Fed isn't worried about low inflation. As I pointed out last week, core PCE inflation, the Fed's preferred measure, recently hit a 50-year low at 1.05 percent. Inflation expectations have fallen too, though they're closer to target at around 1.8 percent. Still, it's enough that it probably should give the Fed pause: lower inflation when interest rates are zero means higher real borrowing costs. It did for St. Louis Fed President James Bullard, who dissented from the majority for not doing as much as he would like to make clear that the Fed would keep inflation on track. But the rest of the committee was not as concerned. They said the recent disinflation was "transitory" and it wasn't worrisome since inflation expectations were "stable". That sounds an awful lot like a Fed looking for any excuse to pull back, even if the data is mixed. As you can see below from Bloomberg, 5-year (white) and 10-year (yellow) inflation expectations jumped on Wednesday's no-taper news before tumbling during Bernanke's press conference, and then really tumbling Thursday morning, as markets digested the Fed's lack of vigilance on disinflation.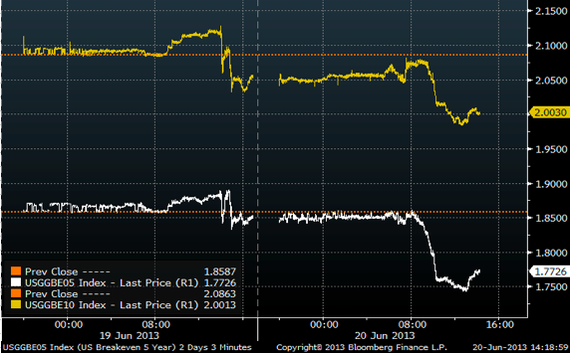 3. Nor is the Fed worried about rising interest rates. As Evan Soltas of Bloomberg View points out, markets have been pricing in higher short-term interest rates ever since Bernanke hinted at tapering back in May. Now, that's not a problem insofar as rising rates reflect rising optimism about the economy; in fact, it's a positive sign if investors want to dump bonds for stocks. But it can be a problem if rising rates are mostly about fears of Fed tightening. Bernanke, for his part, dismissed concerns about the latter. He said it was a good thing rates were going up on increased optimism and "an accurate assessment of monetary policy". In other words, he was happy markets were noticing the Fed intends to pull back some of the punch bowl soon-ish.
But now markets are worried about how quickly the Fed wants to pull back the rest of the punch bowl. As
Matthew Klein
of
Bloomberg View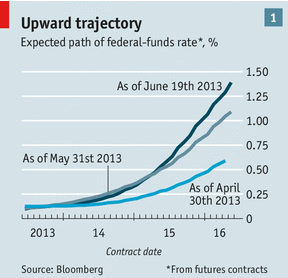 points out, markets now expect the Fed to hike and hike and hike again from 2015 on. You can see this tightening in the chart to
the right from
The Economist
, which compares the expected paths of future rates from April, May, and today. Either markets think unemployment will fall below the Evans rule's 6.5 percent unemployment threshold faster than the Fed does, or else markets think the Fed won't wait long thereafter to start aggressively raising rates, despite what Bernanke has said to the contrary.
Of course, the real story here isn't a one or two-day market sell-off. It's that this sell-off, and the monetary tightening it implies, will keep the recovery from ever reaching the kind of escape velocity that would put the long-term unemployed back to work. Now, to be fair, the Fed
has
managed to keep all the fiscal tightening from the expiring payroll tax cut and the sequester from throwing us back into recession, and it deserves credit for that. But the Fed has consistently preferred a subpar recovery with sub-2 percent inflation to a recovery worthy of the name with higher inflation. And it's telling us that isn't changing anytime soon.
Apparently a faster recovery wasn't worth 3 or even 2 percent inflation.