Which States Are Winning the Recovery?
The same ones that won the recession, mostly.
The Great Recession was not an equal-opportunity disaster. Some states (Nevada, Florida, California, Michigan) got absolutely mauled in the downturn. Others (Texas, New York), came out bruised, but not really bloodied.
As researchers from the New York Federal Reserve point out today, however, the recovery period has been a different story. Other than oil-drenched North Dakota, and to a lesser extent Texas and Utah, most states have had a fairly similar rate of employment growth since the economy bottomed out in 2009. And so the states that were in the deepest jobs hole when the recession ended are more or less still in the deepest jobs hole today. Those include Sun Belt states like California, Florida, and Arizona, as well as parts of the industrial midwest, like Michigan and Ohio.
The biggest winners: New York, West Virginia, Texas, Alaska, the Dakotas, and Utah. Or, to oversimplify a bit, Wall Street and resources.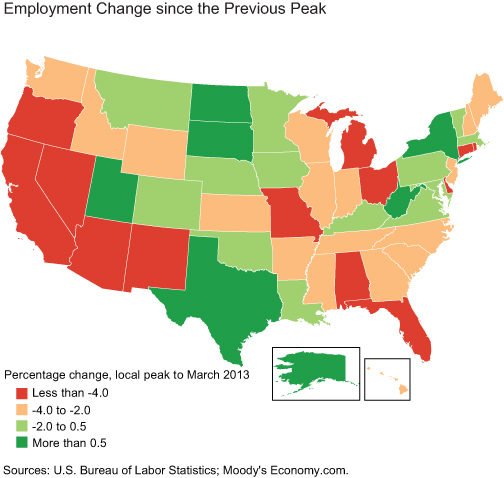 As the NY Fed, notes, it's a bit of a mystery why the jobs recovery is so universally mediocre unlike, say, in 1990, when there was enormous variation across state lines. But it does seem to bring into question the idea that state-level policies are really making an enormous difference when it comes to growth, no?