Sailors on Lake Michigan know they're approaching the south side of Milwaukee when they spot the Allen-Bradley Clock Tower. But the building beneath the tower acts as a marker of another sort: the structure originally built to be a manufacturing plant is now filled with white-collar professionals. As the global headquarters of Rockwell Automation, the Allen-Bradley building provides office space for 3,100 employees who range from product development engineers to sales and marketing teams and corporate executives. They're in the manufacturing business, but it's not quite the same business that once made Milwaukee prosperous.
Rockwell Automation sold over $6 billion worth of industrial control products last year, more than half of those outside the United States and over one-fifth to emerging markets. Some 61 percent of its 22,000 employees are based outside the U.S. While 58 percent of last year's sales were in manufactured devices, 42 percent were in computer hardware, software and communications components.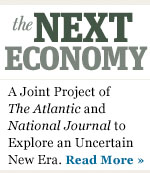 Take a close look at Rockwell Automation, and you'll understand why the modern manufacturing industry manages to be both a tremendous economic driver and a tough business in which to get a job. It's becoming standard for many manufacturing companies to require employees to have college degrees--and some jobs require a PhD. Factory-floor openings are scarce and often require specific credentials. A company like Rockwell Automation creates wealth and jobs all over the world, which is great for the world--and for shareholders-- but not always so great for Milwaukee. The city's number one economic problem is a lack of middle-income jobs, and no industry has yet emerged to replace the jobs the traditional manufacturing sector used to provide.