The Simplest Argument for Government Spending
Why choosing not to borrow money now means we're sticking our kids with the bill later.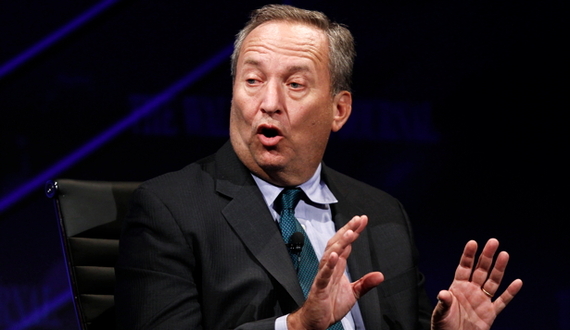 At some point, you've probably heard an austerity-minded conservative say that by running deficits, the government is choosing to splurge now and "stick our kids with the bill." So next time someone brings up the "think of the children!" critique of fiscal stimulus, just remember this very simple retort courtesy of former Treasury secretary and Obama adviser Larry Summers, who spoke yesterday at a Wall Street Journal event. By borrowing and spending now, we're actually saving our children money in the future. Per Summers:
The example I always like to use is Kennedy Airport is going to be repaired. It is going to be repaired at some point. Potholes in roads are going to be filled. The question is whether we're going to fill them now, when we can borrow to fill them at zero in real terms, and when construction unemployment is near double digits, or whether we're going to do that years from now, when there will no longer be any multiplier benefits to those expenditures and when the deficit problem will be a more serious problem.
These points have been made before, and should be made again, and again, and again. Some expenses, particularly when it comes to infrastructure, are unavoidable. And the cheapest time for the government to pay for them is actually when the economy is weakest. That's because during recessions -- or full-fledged financial meltdowns -- the world's investors turn to Treasury bonds as the absolute safest place to put their money. That drives down the interest rates we pay. At the moment, once you factor in inflation, the U.S. is essentially borrowing for free. So by deciding not to take on debt now to cover the cost of essential spending, we're forcing the government to do it in five or ten years, when interest rates will be higher. That will add unnecessarily to the deficit.
In short, we're sticking our kids with the bill.