The Economics of Building an NBA Dynasty
In a player's league, general managers matter more than head coaches.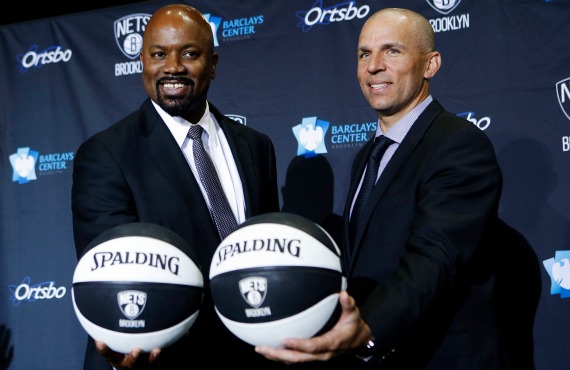 (Reuters)
It's not easy being an NBA head coach these days (although being a millionaire helps). A record
12 of the league's 30 teams
have let their coach go this off-season, and six of those clubs actually made the playoffs. But in this age of the punitive luxury tax, when developing the players you draft is even more premium, teams are less patient with their bench gurus.
But do teams have any idea what makes a good coach?
Not really. NBA coaching is something of a catch-22: You need to be successful in order to be successful. Coaches need the credibility to get players who are much less replaceable (and know it) to buy into their system and roles. In other words, it's not as much about Xs and Os -- there are only so many ways to run or defend a pick-and-roll -- as it is about managing egos and motivating players. That's why teams gravitate towards former head coaches, assistant coaches from top clubs, and players -- they can convincingly say they know what it takes to win in the league. (And that's possibly why college coaches who try to transition to the pros tend to have a harder time).
Of course, it's still a crap-shoot. Economists have found that most coaches
don't statistically improve
their teams' performances in any significant way. But what if front offices hired assistants from the few teams that have head coaches who make a difference?
Matthew Yglesias
of
Slate
thinks that might be the next frontier in exploitable inefficiencies: Rather than bringing in retreads or retired players, teams should poach top assistants from the Spurs or Lakers. In particular, Yglesias thinks the New Jersey Nets should have opted for former Lakers guard and Phil Jackson assistant Brian Shaw over the
very recently retired
former Nets star Jason Kidd.
But Matt should pay closer attention to recent history: Hiring a former assistant coach from a successful team is the most wrinkled page in the GM playbook.
New Jersey itself just went through two coaches with Spurs ties. Interim head coach P.J. Carlesimo served as San Antonio head man Gregg Popovich's deputy for five years -- and he had replaced Avery Johnson, another Spurs alum, who quarterbacked the team to its first championship back in 1999. Now, it's true that both Carlesimo and Johnson were retreads, but the fact that franchises would give them second (or third) chances shows how much rival teams keep trying to sprinkle the San Antonio pixie dust on themselves. As you can see in the chart below from
SB Nation
, seven head coaches last year had either coached or played under Gregg Popovich.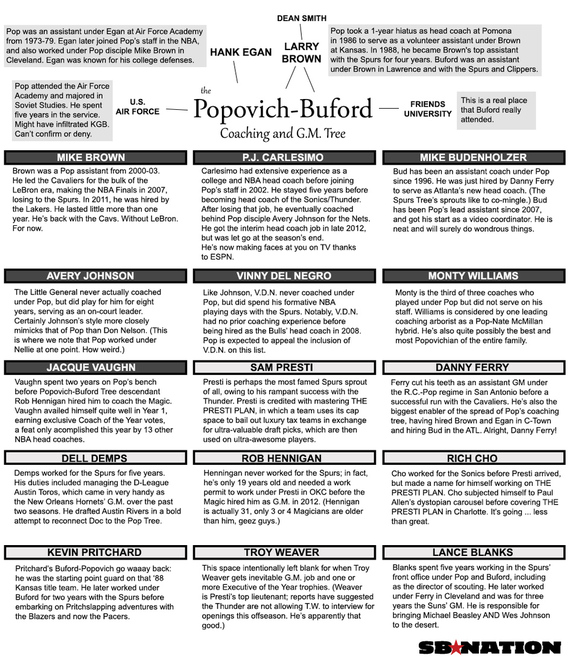 This is a pretty impressive list of coaches. Sure, Vinny Del Negro doesn't have the best reputation, and Jacque Vaughn and Monty Williams are too soon into their rebuilding projects to judge, but Mike Brown and Avery Johnson have enjoyed real success. Both won NBA Coach of the Year and took a team to the NBA Finals ... but both also got let fired from their second job this past year. Indeed, Brown's got let go
just five games into his Lakers tenure
after his ill-fitted flirtation with the Princeton offense.
If it wasn't already clear, coaching is nowhere near a science. But front office management is much closer. Smart teams like the Spurs have always done a superior job identifying under-the-radar players who fit their system, but they've gotten even better at it with the Moneyball-ization of the NBA. I mean, just look at the roster of ex-Spurs execs above who have gone on to lead other teams after learning from Spurs GM R.C. Buford. It's incredible. Sam Presti probably has nightmares about giving away James Harden, but has nevertheless turned Oklahoma City into a perennial contender overnight; Kevin Pritchard lost his gamble on Greg Oden's knees holding up, but otherwise built up a strong team in Portland; and, in one of the biggest upsets in front office history, first-year GM Rich Hennigan somehow managed to
almost win the Dwight Howard trade
for Orlando, and robbed the Bucks of Tobias Harris.
But why have the Spurs' front office alums done better than its coaching alums? Well, building a team is a skill that, unlike motivating a team, doesn't depend on what the players think of you. Either you pick the right players or you don't -- and if you do the former, you can make a lot of coaches look good. After all, there might not be a statistical impact from who leads a team, but there sure is for who's on a team.
In other words, teams should stop trying to find the next Gregg Popovich, and focus on finding the next R.C. Buford.