The Accelerating Recovery of American Wealth
Households have now recovered more than half of what they lost during the crash. Let's just hope it's not the result of a second housing bubble.
Some good news to start everybody's morning.
One week ago, I reported on a recent study by the Federal Reserve Bank of St. Louis that found Americans had recovered less than half of the personal wealth they'd lost during the recession, once you accounted for population growth and inflation. Now we've got an update. Yesterday, the bank posted fresh numbers reaching through the first quarter of 2013, and it appears households have now reclaimed 62 percent of what disappeared. (That's captured in the green line below). By the end of 2012, they were only 45 percent of the way recovered.
In other words, it appears we're picking up steam.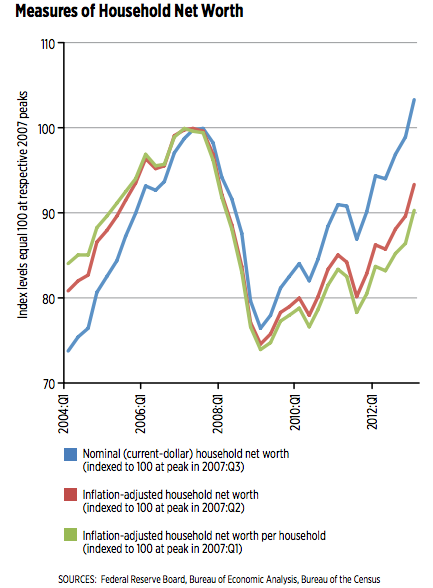 As I've noted before, much of this rebound in national net worth has been a result of increasing stock prices, which mostly benefit the wealthiest families. This has been, and still is, a recovery led by the rich, mostly for the the rich. But housing values, which for better or worse are the bedrock of middle-class savings, have been climbing back as well. Homeowners are regaining their equity (shown below) and healing their household finances as a result. That bodes well for the recovery, since people tend to spend more when their housing wealth grows.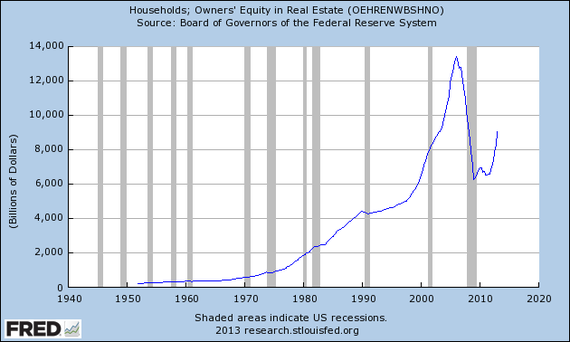 As always, caveats apply. There are reasons to be wary of this new housing recovery. Some skeptics argue that markets in places like California and Arizona that suffered severely during the downturn are in the midst of another bubble driven by real estate investors and artificially low inventories. When more foreclosed houses finally end up on the market, they say, the music will stop yet again. Others argue that the big investors are relatively small part of the action, and that the shadow inventory of foreclosures isn't really big enough to knock the recovery off course once it comes up for sale. 
In either event, we're still not even close to where we need to be for this to qualify as a real middle class rebound. But if this housing market resurgence does last, and families continue fixing their balance sheets at their current pace, it could become one.