Spreadsheet Fiction: The Delusion at the Heart of Tech Stock Analysis
How Zynga's flop exposed the scheme to hype young companies.
It is not an original observation that technology stocks are priced in wacky ways. Amazon made $82 million in profit last quarter, down 37 percent from the previous year, but based on its high share price, has a market value of $126 billion. Compare that with Macy's, which made $217 million dollars last quarter, up 20 percent from 2012. Its market value? $18.5 billion.
How, exactly, does this happen? Sure, some of it is company hype, popular excitement over new products, and inexperienced investors hoping for a big score. But there's an institution that formalizes the excitement over new technologies into financial projections: Wall Street analysts. And the recent flop of the new gaming company Zynga allows us to see the process that supports tech stocks, even when their financial performances suggests their prices should be lower.
Let's go back to late 2011, when Zynga had successfully completed an initial public offering. The company's shares were priced at $9.50, and research analysts moved in to initiate coverage of the stock. When analysts do this, they release a thick report filled with the background for the "investment thesis," in which they explain the idea behind buying (or not buying) a corporation's shares. They also create a model for the company's financial mechanics, and use it to project the company's future earnings. Working from this numerical conjecture, they assign a "multiple" to their forecasted financials to calculate the "target price" they decide the stock should have. The analysts justify the multiple they give in various ways, looking at similar companies or related industries; sometimes, they give "a premium" to a company deemed to be in a "leadership position" or which is perceived to have a better management team or upcoming products than its competition.
For investors, what I've described is all old hat. The good ones know to take these reports with salt pills. But for a regular person who is not familiar with the methods, the takeaway from the eight different dispatches that I examined would be the same: Zynga's share price could rise to $14 or perhaps fall to $7. Either way, the company would have revenues of $1.4 or $1.5 billion and gross profit of close to a billion dollars. (All the numbers are in this spreadsheet.) While some analysts like Sterne Agee's Arvind Bhatia and Cowen and Company's Doug Creutz were more skeptical than others like National Alliance's Mike Hickey or JP Morgan's Doug Anmuth, no one predicted what actually happened to Zynga. After a run up in early 2012, within six months of these reports, Zynga's stock price had fallen below $6, and by the end of the year, it was under $3. It hasn't topped $4 since.
Unlike some notable dot-com bubble examples, this was not a case where conflicts of interest seemed to have bent the analyses. This was not a case in which analysts were out touting the company as the next Google. Rather, what's fascinating here is that none of the analysts did anything wrong by our current definitions of the rules of the game. And that's precisely why Zynga points to a deeper rot at the heart of the system by which technology companies are evaluated.
Public technology companies are valued by an analytical process I'd call spreadsheet fiction. These are simple stories we're told, cloaked in numbers and numbers and numbers.
But, you might respond, aren't all companies valued this way? Don't analysts create detailed models of the way a company makes money and then calculate out what the enterprise is worth? The answer would be: sorta. Many businesses have long operating histories and metrics you can trust. If you're valuing a supermarket chain, there are many supermarket chains to look at. While each may have different geographical and product specialties, the revenue bump that could be expected from opening 100 new stores, say, would not be that hard to predict.
There wasn't much data that could be applied to Zynga. Analysts were flying blind, comparing it to Netflix or Amazon or other gaming companies like Activision Blizzard or Electronic Arts.  Hell, sometimes Zynga got lumped in with Apple and Google. What traits, exactly, does Zynga  share with Apple and Google, other than that their computing and storage costs might track Moore's Law somewhat? It's not that the whole system is a sham -- that would imply a lack of good faith out of the people involved -- but that with newish technology companies, so many decisions are arbitrary.
First, the most common valuation tactic was to multiply the company's projected 2013 earnings (data encompassing 24 months from the time the projections were made) by some multiple. Well, actually, it wasn't the earnings, per se, but a related figure called Adjusted EBITDA (Earnings Before Interest, Taxes, Depreciation, and Amortization). This accounting maneuver allowed Zynga to show investors what its business looked like if you took out the $400 million of stock-related compensation on its books, which made its numbers look bad. Many companies show these kinds of non-standard numbers, so, for the purposes of this analysis, let's accept that using the Adjusted EBITDA metric was a good idea.*
Many analysts chose to calculate the enterprise value (EV) for Zynga at 11-12 times their 2013 EBITDA estimates. For example, JP Morgan ("Our $12 price target is based on ~12x our 2013E EBITDA of $644M"), Piper Jaffrey ("Our target is based on 12x CY13 EV/EBITDA"), and BMO ("Our target assumes approximately an 11 times EV to EBITDA multiple for our 2013 EBITDA estimate."). Wedbush had an outlier projection on the EBITDA side, so used a smaller multipler ("Our 12-month price target of $12.50 reflects an EV/adjusted EBITDA multiple of 9.5x our 2013 adjusted EBITDA estimate."). Sterne Agee used a multiple of 11 on their 2012 EBITDA estimate to calculate enterprise value. Others like Macquarie used another estimation technique called discounted cash flow analysis, which worked out to a 20x multiple on their 2012 earnings estimate. (Cowen and Company used a 25x multiplier on their preferred metric, EBIT.)
Most of these predictions depend on two factors: the EBITDA and the rather subjective application of a multiple to get an enterprise value. You can quibble about the latter, but we can check the accuracy of the former. We now know what Zynga's 2012 EBITDA was, and not a single analyst was even close. It seems nearly certain that the 2013 numbers will be even worse when they are available early next year. Cowen and Macquarie were the closest, only missing high by 50 percent. Wedbush predicted 2012 EBITDA of more than 3.5 times Zynga's actual performance. All of these were big misses high -- and Cowen and Macquarie were bearish on the company!

You might counter that these estimates were all reasonable, and that Zynga merely underperformed, something the analysts could not have predicted. And yet, right in, say, Macquarie's report, we can see that the company's user numbers were stagnant, its revenue was stagnant, and that its bookings growth (which is roughly equivalent to revenue growth) had been slowing for quite some time. These three charts make the case pretty effectively that predicting fast growth was at least questionable.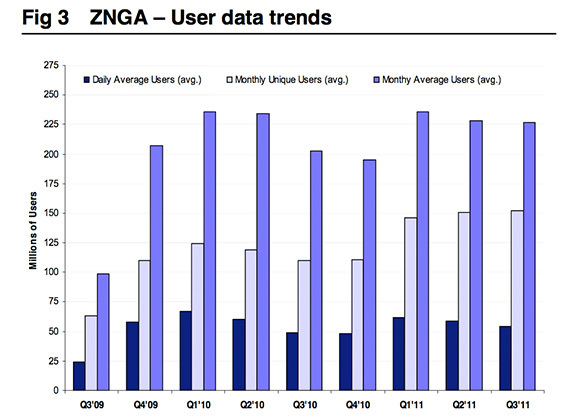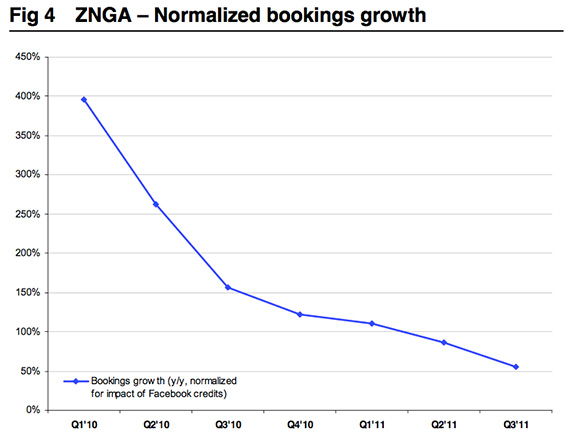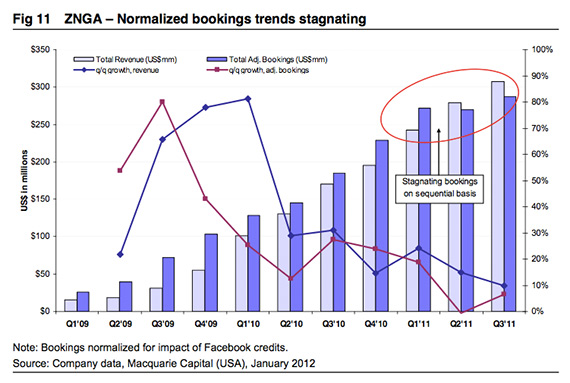 But then, if we look at, for example, JP Morgan's EBITDA projections, we see big growth rather than the fall that actually occurred. This is despite the fact that it was already clear during this period that the 2011 numbers would be lower than 2010 numbers, a trend that continued in 2012. The non-growth story was unthinkable, despite strong evidence to suggest it was at least one likely outcome.

The fan of possibilities in analyst fiction is too narrow, and skewed upward, in general and in this specific case. The research firms in this report generally say that about 50 percent of the stocks they cover are "buys" (or are set to "overperform"), another 46 or 47 percent are "holds," and a measly 3 or 4 percent are "sells." These numbers are patently absurd. And Zynga's case shows the mechanics of this rosy worldview. While many analysts could imagine good things for Zynga, even the most bearish could not imagine things would be as bad as reality. Looking at the methodologies, it seems clear that using earnings estimates from 24 months in the future is a mistake. 
Yet each analyst making technology stock research engages in similar practices (though some more aggressively than others). The people making these projections are not dumb. To a person, they are pedigreed, experienced, and exceptionally well compensated. For example, Dealbook reported that JP Morgan's Doug Anmuth makes $2 million per year. So why do they do it?
People need some kind of numbers to justify investing in the dream of another Google, Amazon, or even Netflix, and the analysts' job is to provide them.  If analysts predict massive (and in Zynga's case, wildly overstated) growth two years in the future, and then use that prediction to calculate a current value, investors can ignore the lack of present-day profits.
I've come to think of Zynga like a non-alcoholic beer fed to fraternity pledges. The conditioning of the participants and the mechanics of the process ensure everyone feels drunk, no matter what the contents of the golden liquid.
Even the most independent-thinking analysts cannot go too far outside the accepted narratives, or they'll simply ruin the party.
---
* Cowen wrote that Zynga "encouraged" (their quotes) analysts to use their preferredaccounting figures, some of which Cowen liked and others they did not. They did not agree that hundreds of millions of dollars of employee stock compensation should be excluded from their earnings analyses, but pressure to conform kept them in line.
Stock Compensation - Yes, This Is A Real Cost. But Not a Battle We Can Win.
Like the traditional video gaming companies, Zynga wants investors to omit stock compensation costs from expenses when assessing profitability. We don't love this practice from the traditional video game companies, because although stock compensation is not a cash cost, and thus does not reduce the overall value of the company, it does represent a reallocation of value from current shareholders to employees. Given Zynga's much more aggressive stock compensation policies (compared to the traditional video gaming companies) to-date, we like excluding these costs even less for Zynga. However, not excluding the costs will result in an EPS metric that is non-comparable to our Street peers, which would result in our estimates being excluded from consensus. So, we will play along and exclude stock compensation from our non-GAAP EPS metric (as we do for the traditional video game companies) but we plan to remind investors regularly that a lot of whatever value Zynga generates is going into the pockets of employees.