Reminder: There Are Still 3 Times More Unemployed Workers Than Job Openings
In every single major industry sector, there are too many job hunters vying for too little work.
The Department of Labor released its latest report on job openings yesterday, and while not much changed from last month, it was a reminder that the labor market is still pretty much murder. With more than 11.7 million unemployed Americans still out there, the government estimates that there are 3.8 million jobs to be had -- a ratio of 3.1-to-1, as shown on this graph from the Economic Policy Institute.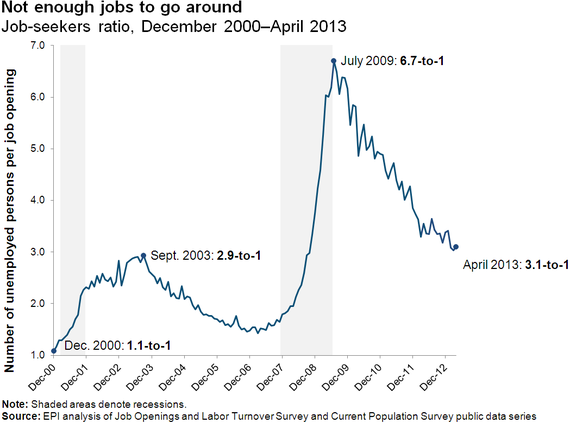 So am I sharing this just to dampen your morning? Nope. There are a couple of broader points about these numbers that I'd like you to remember the next time you read a pundit opining about how Americans can't find employment because they lack the education or skills.
First: Even if there are jobs to be had, there are still far, far more job hunters vying for them than is normal. Pre-recession, the ratio of jobless to job openings was less than 2-to-1.
Second: As of now, there are more job hunters than job openings in every single major industry sector. Now what does that tell us? It might mean that companies used the recession as a chance to lay off employees whose talents were no longer valuable to them and have yet to find replacements with fresher skills. There's probably at least a bit of that going on. But as EPI argues, the across the board surplus suggests that "the main problem the labor market is a broad-based lack of demand for workers," not a lack of able applicants. To me, at least, the latter seems like a more compelling story.