Our National Smartphone Addiction Is Just Getting Started
Even today, barely more than half of Americans own a mobile device.
For those of us who make our living tapping out words on the Internet and compulsively rechecking Twitter, it's sometimes easy to forget that there's a large chunk of the country for whom a phone really is just a phone. Pew is out this week with its latest survey of U.S. smartphone adoption, and it finds that barely more than half of adults now report owning one of the devices -- which means, of course, that almost half of adults still don't.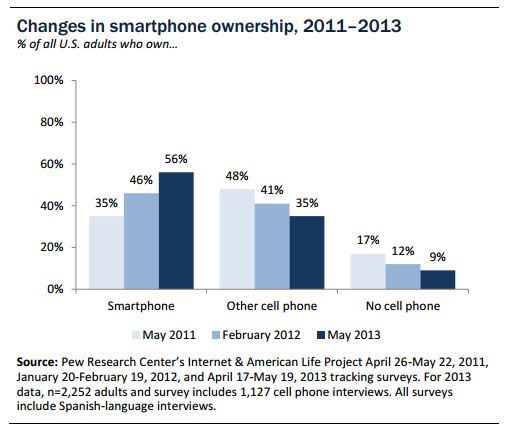 As you might suspect, there's a big age and wealth gap. About 9 in 10 Americans under 50 own a smartphone, while just 72 percent of 50 to 64 year olds do. Among seniors, the number is less than half. Richer Americans are more likely to own them than poor ones, though the gap is smallest among the young. To make the someone obvious point, for Gen Y, a smartphone isn't a luxury -- it's a necessity. 

When business execs talk about how commerce and media are going to migrate faster and faster from computers on our desks to little handheld screens, this is why. The market isn't even close to saturated. And as smartphones inevitably become commodities -- just imagine the day that we look back at the iPhone the same way we do now at Nokia's little candy-bar handsets -- the mobile class divide will fade as well. Our national smartphone addiction is just getting started.