Milwaukee Tries to Shed Its Rust-Belt Image
Mayor Tom Barrett talks about the city's new water industry — and his uneasy relations with Madison after an unsuccessful run to unseat Gov. Scott Walker.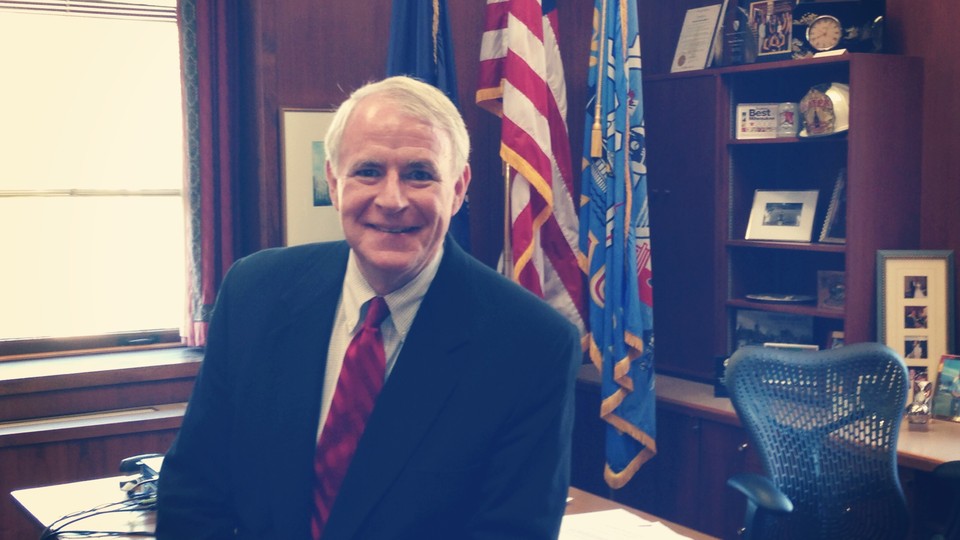 This article is the first in a weeklong America 360 series on Milwaukee.
MILWAUKEE — Once the blue-collar soul of Wisconsin, Milwaukee faces challenges shared by other post-industrial cities. More than one-quarter of city residents still live in poverty, and the manufacturing jobs that once provided pathways to the middle class have dwindled. While an influx of young people and new industry is slowly reinvigorating the urban core, low-wage work is still often the only option for city residents who lack the means or education to access white-collar jobs.
And then there are the political problems. The city of Milwaukee, a reliably Democratic outpost, has long had an uneasy relationship with its more conservative suburbs — a divide that has a lot to do with the isolation of the poor, largely African-American inner city. The city has also clashed with the Republican state leaders in Madison. In the past three years, Milwaukee Mayor Tom Barrett has squared off against Republican Gov. Scott Walker twice, most recently in a 2012 recall election, which Barrett lost. National Journal's Sophie Quinton sat down with Mayor Barrett to ask him about Milwaukee's search for a new identity. Edited excerpts follow.
What's the story of Milwaukee's economy today?
We're making a transformation from a city that was very, very heavily manufacturing-based to one that still embraces manufacturing but is moving beyond to include financial services, health services, and intellectual property.
Physically, the city is undergoing a change as well. If you visit the area west and south of downtown, you'd be in the Menomonee Valley. The Menomonee Valley used to be a site of literally thousands of [manufacturing] jobs. But for several decades, it was desolate. Just in the last decade, we've breathed life into that area. Now it's filled with companies. That happened because we executed a game plan of public-private partnership — some public funding, with many different sources — and worked with local employers.
There are challenges, but we're seeing our population grow after decades of decline, and we're pleased to see a huge infusion of energy of young people in the city.
How does a city like Milwaukee find funding for redevelopment projects during a time of tight government budgets?
Where we've been successful, we've taken advantage of different programs, like the low-income tax credit program or the EB 5 program, which is a foreign-investment program. We've got creative developers that have been able to access those dollars. At another industrial site, 80 acres of land where 100 million car frames were once built, the city is investing in re-creating the street grid and tearing down some old buildings. That's a part of the city where a lot of people are out of work, so we want to do what we can to bring the jobs close to where people are working.
Are there any up-and-coming industries here that you find particularly exciting?
Everything old is new again is perhaps a better way to describe it. There are probably 150 different companies in this region that are involved in the water-technology industry. The city is partnering with them in an area just south of downtown to create a hub for water-technology industries. That's to build on our strengths.
Somehow, we've allowed other parts of the country to define us [as the Rust Belt]. I view where we are right now as sitting on America's fresh coast. We are less than a mile from 20 percent of the world's surface freshwater. And for all the communities along the Great Lakes — on the American side and on the Canadian side — I think that puts us in an incredible place moving forward.
The state Legislature has blocked many of the city's proposals, most recently to create a streetcar line. Last month, the Milwaukee-Journal Sentinel ran the headline, "Is the GOP-run state Legislature at war with Milwaukee?" How have political divisions affected your ability to get things done?
I'm someone that loves partnerships, whether they're partnerships with the business community or the not-for-profit community or with different layers of government. We have had some successes — for example, we recently announced a successful agreement among the city, county, and state governments to do some construction work along the lakefront here. But, of course, political battles can come into play. And as you see in many other parts of the country, there are times when state government comes in and has a different view of what should be happening. I'm a proponent of local control.
How about regional partnerships? Milwaukee is in an interesting spot because it's less than two hours from Chicago.
I've long considered Chicago one of our finest suburbs [laughs]. So I love having Chicago an hour and a half away. I think it's good for Milwaukee, and I think it's good for Chicago. Where we've made a lot more intensive focus on economic development, here in southeastern Wisconsin, is bringing together seven counties and working together to advance our interests. If I can't have an industry in Milwaukee, I'd much rather have it in Wauwatosa than Walla-Walla, Washington. There had been literally decades of bad blood between suburban and city leaders on issues ranging from sewers to transportation to housing.
After almost a decade as mayor, what have you learned?
I've served in the state Legislature, I've served in Congress, I've served a little over nine years as mayor. This is by far the most challenging job I've ever had. But it's also the most rewarding job, and it's because you're so much closer to the people. I think mayors across the country realize that the one constant in cities is that we're always changing. That's as true in 2013 as it was in 1963. When I see unique and innovative projects, it's just gratifying to see how much people care about and invest in a city like Milwaukee.
What's your take on Wisconsin's upcoming gubernatorial race? Would you consider running again in 2014?
Oh, I'm very happy being mayor. I'm sure there'll be a spirited race, in large part because there will be a question of whether Governor Walker even runs again. He's going to have to make a decision: Is he going to try to fulfill his promise of creating 250,000 jobs, or is he going to run for president? It's probably difficult to do both.