Is Abenomics Doomed—or Will Japan Un-Doom Itself?
Foreign investors, buoyed by Bernanke, sent Japanese stocks up. Then, spooked by Bernanke, they sent the Nikkei into a tailspin. Guess whose help Japan needs now?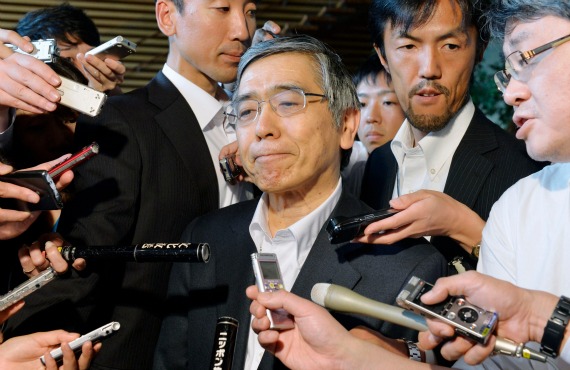 After an amazing eight-month run where Japanese stocks went up, and up, and up over 80 percent, the Nikkei has collapsed again, and again, and again over 20 percent from its peak. It
fell 6.4 percent
in the early hours Thursday morning to officially enter "bear market" territory.
The Nikkei's boom has been a story about money, and so has its bust. Last November, then-frontrunner Shinzo Abe ignited the melt-up in the Nikkei when he promised to push the Bank of Japan (BOJ) to finally end deflation 
"unlimited" easing
. The rally continued through Abe's election as prime minister in December, and then it
really
took off after investors saw who he tapped to lead the BOJ. Haruhiko Kuroda might look the part of a mild-mannered academic, but the former finance minister has, like
Ben Bernanke
, been a longtime critic of the BOJ's strange surrender to stagnation. (As
Brad DeLong
points out, Japanese real GDP per capita lost ground with the U.S. in the 1990s after decades of almost catching up). For his part, Kuroda uttered the
three magic words
of central banking -- whatever it takes -- and then backed it up by announcing the BOJ would do
quantitative easing until inflation hit 2 percent
. Investors rejoiced.
But which investors? As
Matthew Klein
of
Bloomberg View
points out, foreigners have been the ones pushing the Nikkei up during the Abe-boom. Japanese savers have actually been net sellers during this historic rally. You can see that in the chart below, which compares the Nikkei and net foreign buying since right before Abe unveiled Abenomics. The market jumped up as more and more overseas buyers jumped in, and fell down as fewer and fewer did.
(
Note: Data for the first week of June is pro-rated on a monthly basis. All numbers from the Tokyo Stock Exchange
).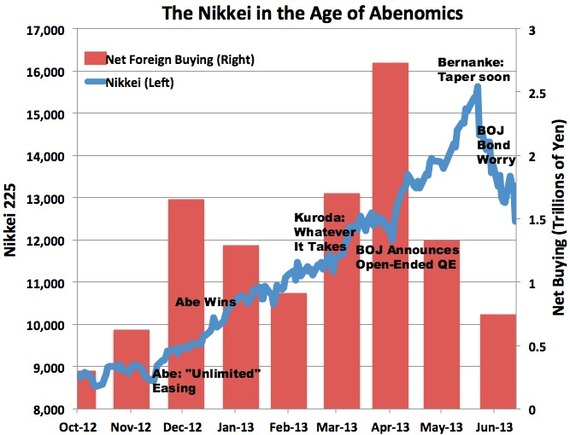 Why have foreign investors gotten gun-shy lately, and why haven't Japanese investors stopped being gun-shy? Monetary policy, monetary policy, monetary policy. 
At the end of May, Bernanke said the Fed might start tapering its bond-buying in the "
next few meetings
," which was enough to send stocks swooning -- or collapsing, like in Japan. As you can see above, the Nikkei peaked right before Bernanke broached the
t-word
, and then fell off a cliff. It didn't help that, as
Lars Christensen
points out, the Bank of Japan began sending out its own mixed signals about whether it would keep its foot on the gas around this time. International investors who had been counting on open monetary spigots in America 
and
Japan suddenly realized that maybe they couldn't. And Japanese investors, who have become accustomed to stops-and-starts from the Bank of Japan in its heretofore half-hearted battle against deflation, weren't sure if they were seeing history repeat again. 
In other words, "
regime changes
" only work if there isn't any doubt that central bankers will do, well, "whatever it takes," to change it.
Now, this platform of mega-monetary stimulus is only one of the three legs of Abe's eponymous program to get Japan out of its decades-long doldrums. But, as
Noah Smith
points out, the others have been much more disappointing. The structural reforms Abe has proposed
don't amount to much
. In the long run, whether Japan is able to get back to growth and out from under its giant pile of debt depends on whether it does things like
getting women in the workplace
, and making labor markets more flexible. But in the short run, it needs growth to give Abe the kind of mandate he needs to push through unpopular reforms. (Abe's approval rating has fallen with the stock market, but still stands around
68 percent
ahead of upper house elections in July). The Bank of Japan has done a good job of that until its recent stumbles -- the economy
grew 4.1 percent
in the first quarter of 2013 -- and it can keep doing so
if it stays committed to ending deflation
.
Ben Bernanke can make that job easier. Already, the Fed is rushing to remind markets that it's
not going to take away much of the punch bowl
anytime soon, if at all. That should be good news for stocks here and in Japan, and it's a reminder that expansionary monetary policy in one country doesn't hurt another. It helps.
As I said before
, depressions are the only casualty in a currency war.
Let's hope the Fed and Bank of Japan keep "fighting".