Americans have been cutting back on their driving ever since the recession. They've logged fewer miles on the road. They've been less likely to get a driver's license. And they've bought fewer vehicles.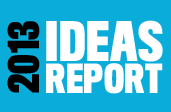 Modest ideas that can change the world.
See full coverage
But does all this actually mean the U.S. is getting over car culture? Or is it just the product of a down economy?
That's a question many people, including myself and Derek Thompson, have pondered over the past few years. And in a brief new report today, Michael Sivak of the University of Michigan's Transportation Research Institute has added a neat little bit of analysis to the conversation. Its key take-away is that the number of cars per household actually began to decline pre-recession, after 2006. Same goes for cars per licensed driver and cars per person. 
"In other words," Sivak writes, "these rates started to decline not because of economic changes but because of other societal changes that influence the need for vehicles." And that, he argues, means its more likely we're witnessing a permanent shift.
It's an interesting theory. But were Americans really rethinking their gas guzzling ways before the economy went south? I'm not quite sure.