Changing an Urban Neighborhood, One Peach Orchard at a Time
A Milwaukee couple's nonprofit combats poverty with block parties and community gardens.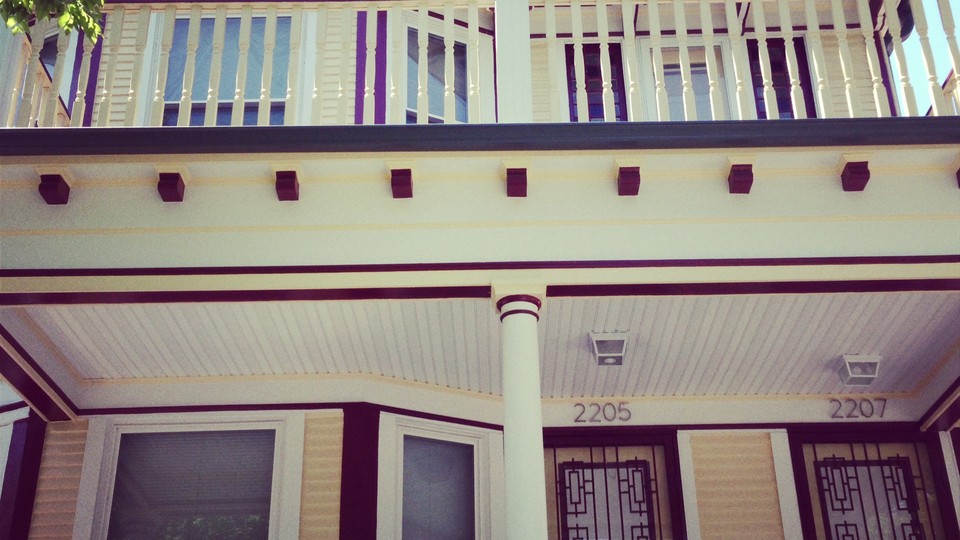 This article is part of a weeklong America 360 series on Milwaukee.
MILWAUKEE--The northwest side of Milwaukee isn't a place where you expect to find a peach orchard and rooftop solar panels. In the neighborhood known as Lindsay Heights, it's more common to see foreclosed and abandoned buildings, barbed-wire fences, and bored adults hanging out on front stoops on a weekday afternoon.
Things weren't always this way. When Sharon Adams was growing up here in the 1950s and '60s, the area was humming with commerce and was home to a mix of working- and middle-class families. Her memories have sustained her since she moved back to Lindsay Heights in 1997. A decade ago, Sharon and her husband, Larry, founded Walnut Way Conservation Corp., the small nonprofit they direct that focuses as much on strengthening social connections as on rehabilitating derelict buildings. Their hyper-local, grassroots approach isn't economic development in the traditional sense. But it's bringing about real change in the neighborhood.
"We are still rated — the two ZIP codes that this community comprises--the lowest socioeconomic status in the city of Milwaukee," says Sharon. But in the 10 years since the Adams' founded Walnut Way, crime has dropped and entrepreneurship has started to emerge. "There is a growing efficacy — instead of feeling powerless, of feeling an ability to change and improve the community," she says.
The Adams' have the calm patience of people who know that rebuilding a community can take generations. Their skills are complementary: Sharon has a degree in social work and used to lead the Girl Scouts of Greater New York, and Larry is a Marine Corps veteran and a contractor. They also lean heavily on the expertise of their staff of 12, and on neighborhood residents eager to have a hand in improving their community.
Poverty is more concentrated in Milwaukee's inner city than in Detroit, Philadelphia, or Cleveland, according to the Cleveland Federal Reserve. The northwest side of Milwaukee, like Chicago's South Side, is home to a largely African-American population isolated from the economic life of the city. In Lindsay Heights, the poverty rate is 40 percent, compared with Milwaukee's overall 27 percent; the unemployment rate is 21 percent, compared with the metro area's 7.5 percent.
Today, Milwaukee is among the most racially segregated cities in the country. "We really don't have an African-American middle class in this town to speak of," says Rob Henken, president of the Public Policy Forum, an independent research organization in Milwaukee. For this community, climbing out of poverty requires more than just an infusion of resources and attention: It requires the belief that poverty isn't inevitable.
Walnut Way's holistic approach begins with the neighborhood's physical assets. The organization has renovated 18 historic homes, which it either leases or sells at market prices. Renovations incorporate features like solar panels, and workers are trained in green-building techniques. The organization has also acted as a community partner in an effort to build 165 and rehabilitate 350 homes in the area, led by the Wisconsin Housing and Economic Development Authority.
Many of Walnut Way's initiatives have multiple aims. By purchasing 10 vacant lots and turning them into fruit and vegetable gardens, Walnut Way made productive use of neglected space and addressed the lack of accessible, fresh produce in the area at the same time. Partnerships with institutions across Milwaukee help ease Lindsay Heights' social and economic isolation, and activities for children often involve a service component. Block parties are as much a part of their work as job-skills classes.
"When you're on the ground at any given point, you'll see a part of it — a garden, a bee apiary," Sharon says. "But what does that mean when an anchor institution such as the [University of Wisconsin-Milwaukee] School of Public Health is now purchasing honey from us? It is, to me, healthy because it's interrelated."
Taking small actions that give people a sense of pride in their neighborhood — and trust in their neighbors — isn't a crazy starting point for uplifting a community like Lindsay Heights. Research from Harvard University's Saguaro Seminar suggests that increasing social ties among neighbors is a more effective crime prevention strategy than increasing the number of cops on the beat. Neighborhoods with a greater density of community organizations and higher levels of trust experience less crime, better educational outcomes, and more resilience in the face of economic shocks than similar neighborhoods with less social cohesion, according to the Project on Human Development in Chicago Neighborhoods.
Larry took me for a walk around the block and pointed out that Walnut Way's gardens are surrounded by low fruit bushes, not fences. As we talked, a man approached to ask if he could pick a flower from a garden, and Larry showed him how to do so. "There's a time when that wouldn't have happened," Larry noted — when passers-by wouldn't have bothered to ask permission.
Lindsay Heights has retained many of its assets despite hard times. Turn-of-the-century homes present handsome faces to the quiet streets. Local institutions like the YMCA and the Beckum-Stapleton Little League have persisted, and some older residents now choose to live out their days here even though they can afford to leave. "To have that kind of commitment is something new now, but that used to be the norm," Larry says.
Building a healthy community isn't easy, however, in an area where destructive behaviors have become commonplace. "Socialization is something that has to be taught and practiced," Larry said. Walnut Way is raising money to establish a health and wellness center that will include mental-health services. Such a center would build on the organization's community work, which Sharon believes has prepared residents to seek out healthier lifestyles, including more fresh food in their diets.
Making the finances work is another challenge. Although Walnut Way aims to sustain itself through commercial ventures, grants make up about 80 percent of its current funding. With expenses of $653,730 in 2011, it doesn't have the resources to take on huge projects.
Yet keeping things local, slow, and steady may be Walnut Way's best strategy for lifting up a community that has experienced a long decline. "The decisions we make have a seven-generation view," Sharon says. It's hard to quantify the impact of greeting a neighbor, or making a conscious decision to move into the neighborhood. But sometimes small actions set something bigger in motion.