CBO: Immigration Reform Cuts $175 Billion From U.S. Deficits Over 10 Years
Thank the wonders of a growing workforce.
Advocates of immigration reform have long argued that it would be a boon for the U.S. economy. And guess what? According to the non-partisan Congressional Budget Office, they're right! Even better, it might help shrink our debt.
Capitol Hill's in-house forecasters released their report on the Senate's immigration bill this afternoon. The big takeaway is that, by guaranteeing an influx of new workers, the legislation would increase real U.S. gross domestic product by 3.3 percent through 2023, and by about 5.4 percent through 2033. Meanwhile, it would cut our budget deficits by at least $875 billion over those two decades.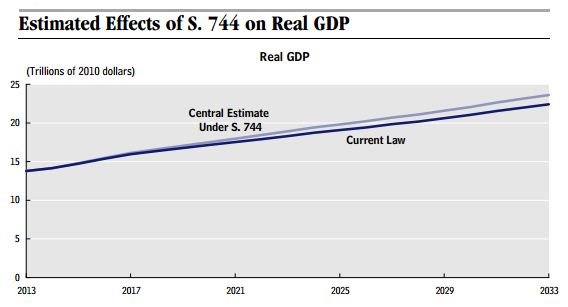 But wait, aren't we going to be spending money on benefits for all these new (or newly documented) immigrants? And what about the billions we're laying out for border security? Well, yes, those things will cost money. The CBO says the legislation will lead to hundreds of billions of dollars worth of additional federal spending. But that's where growth comes into play. With 16 million additional new arrivals by 2033, there will be more Americans working and paying taxes. Those extra revenues alone would shave about $175 billion off the deficit between 2014 and 2023 (It could be up to $197 billion if Congress doesn't choose to fully fund certain committments), and then $700 billion over the following decade. As a point of reference, the fiscal cliff deal raised a bit over $600 billion in new revenues from taxes. The CBO says that if you count additional benefits to the economy that aren't included in its official budget estimate -- factors like productivity growth -- it's possible we could see an additional $300 billion in savings over time.
Granted, that's not much compared to the overall size of our economy. But we're talking about a free lunch here. Let's not complain about the portions.