An American First: There Were More White Deaths Than White Births Last Year
If it weren't for the last twenty years of Hispanic immigration, our demographics would be in deep trouble.
So here's a bit of irony: If it weren't for immigration, America's white population would be in decline.
According to a new Census Bureau report, 12,000 more white Americans died than were born between July 1, 2011 and July 1, 2012. As our James Hamblin notes, white deaths haven't exceeded white births in at least a century. The Caucasian population only expanded thanks to 188,384 immigrants.  
In the meantime, the Hispanic population continued to grow apace, with more than a million new births, and only 152,000 deaths.*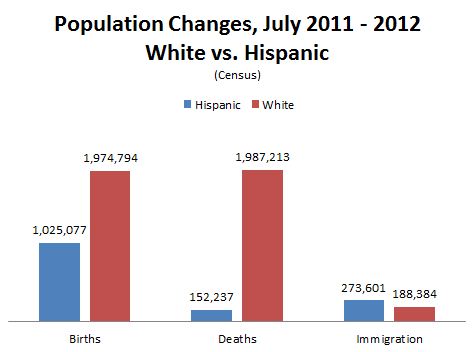 If nothing else, this is a reminder of why the United States is incredibly lucky to have enjoyed the huge influx of Hispanic immigration -- legal or illegal -- that occurred during the 1990s and 2000s. Economics are, in many ways, just a product of demographics. And it is very, very hard to grow an economy with an aging or, worse yet, shrinking population. The Hispanic families that moved here over the past couple decades years have been much more apt to have children than white Americans, which has kept the country relatively young. Were it not for that population booster shot, our prospects for future growth, would be far grimmer. Ditto for ability to fund entitlement programs down the line.
You can see the benefits of recent immigration elsewhere in the demographic data as well. Asian Americans were the fastest growing ethnic group last year, increasing by 2.9 percent. After Hispanics, grew second most overall, as shown below. Of all population growth last year, about 38 percent was due to immigration.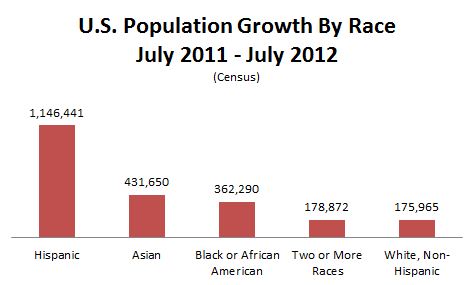 Relatively open borders have been our saving grace, demographically at least. Hopefully Congress won't muck that up too badly.
______________________________
*Yes I made sure to pull the data for specifically  for non-Hispanic whites.