America Just Loves Firing Government Workers
Before it was state and local governments. Now it's Washington we have to worry about.
Today, the Labor Department announced that the U.S. unemployment rate remained unchanged in May at 7.6 percent. After the news, I caught the following exchange on Twitter between the Wall Street Journal's Justin Lahart and University of Michigan economist Justin Wolfers.
Unemployment rate with same number of govt jobs as at end of 2008: 6.9%

-- Justin Lahart (@jdlahart) June 7, 2013
That's the long and the short of what I find to be the most infuriating aspect of this employment recovery. The U.S. economy has been steadily adding jobs, but were it not for government layoffs -- made at a time where Washington has been capable of borrowing money essentially for free -- we'd be in better shape. We've been self-sabotaging for about four years now.
For a while, the big problem was at the state and local level, where the need to balance budgets forced layoffs at schools in particular. But recently, local public sector hiring (shown in red below) has picked up a bit. Now it's Washington that's the trouble spot. Over the past three months, the federal government has shed 45,000 jobs (shown in blue).* In total, the economy has added 466,000 jobs during that time. So for roughly every 10 jobs we've picked up, the feds have trimmed one away.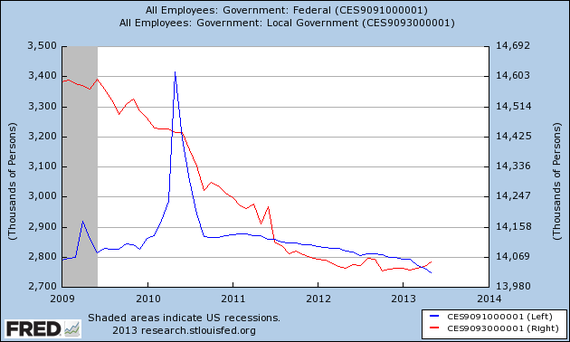 And we haven't even seen the worst of it yet. Sequestration's budget cuts officially took effect in March, and as Annie Lowrey of The New York Times has reported, most economists expect the bulk of the related layoffs to happen during the second half of this year. We have plenty more pointless, self-inflicted wounds to look forward to. 
_____________
*If you don't count the postal service, it's lost 25,000. So if you think USPS is a special case, the ratio is 18:1. Still not great.