Why America's Falling Birth Rate Is Sensational News for the Pet Industry
Pets and babies: Competitive goods.
Conservative writer Jonathan Last, author of What to Expect When Nobody's Expecting, likes to argue that pets are gradually replacing children in the hearts of American couples -- giving them an outlet for all their nurturing instincts at a fraction of the cost and hassle. As someone who grew up with two dogs (though, admittedly, no siblings), I'm a bit skeptical about the theory. But I couldn't help but think of it when looking at this graph from the Bureau of Labor Statistics illustrating how much households spend on animal companions.
Long and the short of it: Childless couples and empty-nesters really do sink the most into caring for pets. A husband and wife with no kids spends 69 percent more, on average, on their dogs, cats, and whatnot than parents of children under six. Second place goes to the parents of adult children.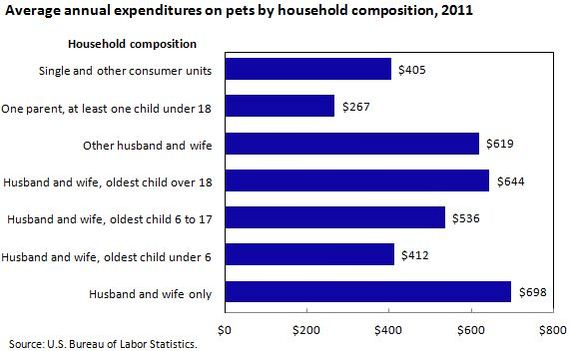 Of course, pet spending also just seems to track pretty closely with disposable income. Two-paycheck households with no children have a lot more extra cash to throw around on premium dog chow and fancy kennels than most singles or young parents, after all. So for those out there who aren't particularly comfortable with Last's brand of cultural criticism, here's another way to think of what this data shows: The more married Americans that shy away from parenthood in the future, the better it'll be for the Purinas of the world.

Investors, take note.