Well, This Is Just Awful: 'Renting' Disabled People to Skip Lines at Disney World
No, it's not a "Modern Seinfeld" episode.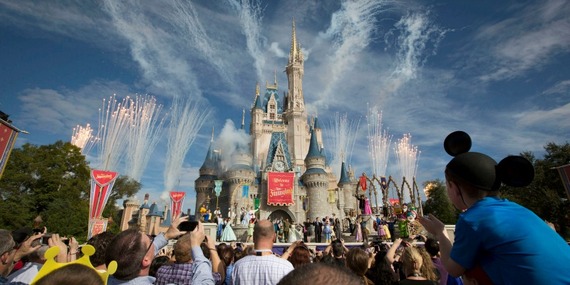 Reuters
The lines at Disney World are awful, we can all agree, but the lengths to which some people will go to bypass them are worse. Wealthy Manhattan parents are reportedly using a service that typically assists disabled children around the theme park to drive their non-disabled families around in a "handicapped" scooter, allowing them to skip lines by up to two hours.

It sounds like something out of a "Modern Seinfeld" episode. But in this case, the horrible people are real. And they're spectacularly crass.
"You can't go to Disney without a tour concierge," one rich mom said, according to the New York Post. "This is how the 1 percent does Disney."
Well, gross. This is, above all, a problem of basic human decency. But it is also a problem of black markets -- or legal markets extended illegally (or extra-legally) to people who shouldn't qualify.

The official Disney VIP Tour includes guides and premium fast passes for between $300 and $400 per hour. That's much more expensive than a $130-per-hour disability service afforded by Dream Tours Florida. There's a very simple explanation for the price difference: The VIP tickets are priced to where the rich will pay (and also to weed out all but the richest families to keep the service exclusive); whereas, the disability tour company sees all families with a disabled person as consumers. So these rich families reportedly using Dream Tours Florida aren't benefiting from a peculiarly effective and peculiarly cheap service, precisely because neither the service nor the price is intended to serve wealthy families. They're benefiting from a service they don't deserve at a price far below where the real luxury market for fast passes has settled.
Markets in everything, you might say. Sure. Regulation (and retribution) in everything would be good, too.

We've reached out to Dream Tours Florida and will report back when we hear.

>