Washington 'Spends' More on Tax Breaks Than on Medicare, Defense, or Social Security
Tax spending is the $1 trillion nudge.
Tax expenditures are funny, They're not taxes, exactly, because they save us money. They're not spending, exactly, because the dollars are never actually spent. They're somewhere in between. So think of it as tax spending.

Or just think of it as the ultimate nudge. The carrot hiding behind the tax code's big stick, tax spending guides us by making certain behaviors and actions cheaper. We encourage employers to provide health care by taxing wages and not taxing health benefits. We encourage investing by making a dollar earned from dividends cheaper than a dollar earned from a salary.
And as the CBO reports in a new study today, Washington's tax spending budget -- comprised of everything from mortgage deductions to the child tax credit to lower tax rates on capital gains -- is so massive, it's technically larger than Medicare, Defense, or Social Security. The tax spending budget is equal to 1/17th of the US economy.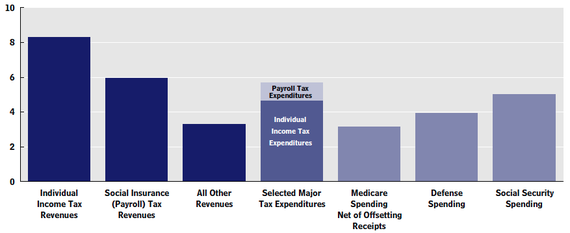 Like the federal budget, the tax spending budget isn't all bad or all good. It's a collage of interests lurking in the shadow of the tax code that represents all factions, including large corporations, small corporations, institutional investors, low-income families, and every slice of America you can name. Conservatives rail against big government, where "bigness" is synonymous with the size of the federal budget. But almost as much as the spending budget, the tax-spending budget, whose number is rarely quoted, influences the economy nearly as powerfully, allowing government to promote relatively expensive housing and generous employer health care. It's the big prod.

>