The Twlight of the Sharing Economy—or the Dawn?
A tale of two Web 3.0 ideas: car-sharing and daily deals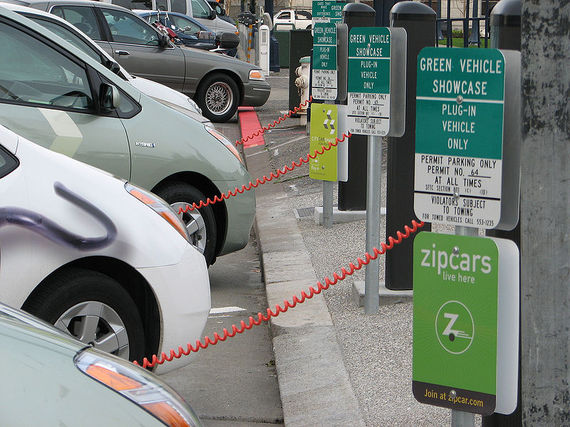 Remember the sharing economy? Maybe you don't. Or, maybe you're still living in it.

This was the idea that, in the embers of the Great Recession, people were giving up owning things -- spaces to live, cars to drive, clothes to wear, appliances to use, entertainment to consume -- and building better ways to share fewer resources for a cheaper price. This was bigger than hippie-nomics come to life. It was the idea that the Internet had connected us all, creating a world of inventory that could be shared and discounted with greater ease than ever.

In November 2011, five days after Groupon went public in the largest Internet IPO since Google, I profiled a Washington, D.C., investment firm founded by Steve Case called Revolution. Case, the founder of America Online, told me that when he started the new firm in 2003, he wanted to get back to "attacking" legacy industries. When I profiled the company, I found that most of the "attack" strategies fit snugly in the category of "sharing."

One year after he started Revolution, the firm had acquired a vacation-home sharing company. A few years later, it invested in and helped to build Zipcar, the largest car-sharing company in the U.S. It then backed LivingSocial, an online social commerce company whose explosive growth made it something like "the next Groupon."
That was in 2011.

Today, however, something like "the next Groupon" is a curse, not a blessing. A years after being anointed the "fastest growing company of all time," Groupon's stock had fallen 90 percent by the end of 2012, the press regarded the business model like something between an un-scalable proposition and a Ponzi scheme. LivingSocial has followed the daily deals market down the mountain, as well: In February this year, its market cap had reportedly fallen 75 percent from its all-time high.

But not all hallmarks of the sharing economy have collapsed. This year Zipcar reported before it was acquired by Avis. Legacy car companies are publicly spooked by Zipcar, and Airbnb stands to pose a legitimate threat in the travel business.
Today I spoke with Ted Leonsis, the co-CEO of Groupon and a partner at Revolution Growth, and Steve Griffith, the former CEO of Zipcar, at New York Ideas, a conference hosted by The Atlantic and the Aspen Institute. I said that I saw the sharing economy as powered by two engines. The first, mobile access that encourages peer-to-peer sharing, will keep growing. The second, a weak economy that encourages cheap consumer behavior, will (hopefully) keep abating. Caught between both forces, would the sharing economy stall?

Both Leonsis and Griffith expressed optimism for their businesses (predictably), but Griffith had better reasons to be optimistic. Groupon and LivingSocial aren't struggling because they have poor management. They're struggling because the profit margin from the daily discount business appears to be significantly smaller than everybody thought two years ago. There are many possible reasons why: consumers are making more money; the daily deluge of discount emails is annoying; stores have discovered that their miniscule cut of the deal wasn't worth the extra traffic; they're losing old markets faster than they're building markets.
Meanwhile, businesses that share cars and space are playing with a tailwind. Even after Millennials begin to recover, they are still more likely than their parents to live in dense cities. That means that, even if they do buy a housing unit and a car, they're likely to buy a smaller unit and fewer cars. The ideal Zipcar customer isn't just a poor college kid, but rather something far more common: a young urban professional who likes exercising and values flexibility and savings over a vehicle.
Companies that burst into the mainstream together sometimes get lumped together, and I certainly considered the Zipcar and LivingSocial part of the same Web 3.0 revolution. But with time and perspective, the sharing economy hasn't taken over quite the way we thought it would. Instead, its resilience has been spiky.

>