The College Grad Recovery Continues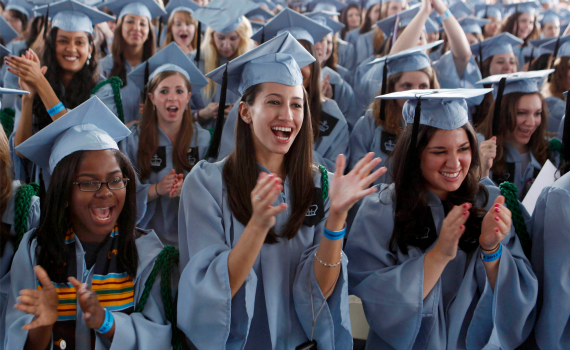 (Reuters)
The rumors of the recovery's demise are greatly exaggerated. It turns out it's the same as it ever was: slow and steady, but real nonetheless. If you graduated from college, that is.
The past few years have been an economic Groundhog day. Despite the biggest spending cuts
since the 1950s
, and one manufactured crisis after another, the recovery has chugged along at 2 percent growth since 2010. (
Thanks, Ben Bernanke
). It's been enough to bring unemployment down, but not fast enough -- unless you think Recovery 2020 is fast enough. But with the expiring payroll tax cut and the sequester cuts making austerity even more austere, there have been renewed fears of an (
actually mythical
) spring swoon. Indeed,
a few weeks of
disappointing
data
seemed to bear this out.
Well, maybe not so much.
The April jobs report reminded us of what we had forgotten. The recovery is the same in 2013 as it was in 2012 as it was in 2011 as it was in 2010. The Bureau of Labor Statistics estimates the economy added
165,000 jobs the past month
, and another 114,000 in upward revisions to past months. As
Justin Wolfers
points out, that gives us an average of 196,000 jobs a month so far in 2013, compared to 225,000 in 2012, and 194,000 in 2011. It's pushed unemployment down to a four-year low of 7.5 percent.
But as disappointing as the recovery has been, it's been even more disappointing more people who didn't graduate from college. It's been nonexistent. As you can see in the chart below of workers 25 and older, college grads are the only group that has net added jobs in the past five and a half years.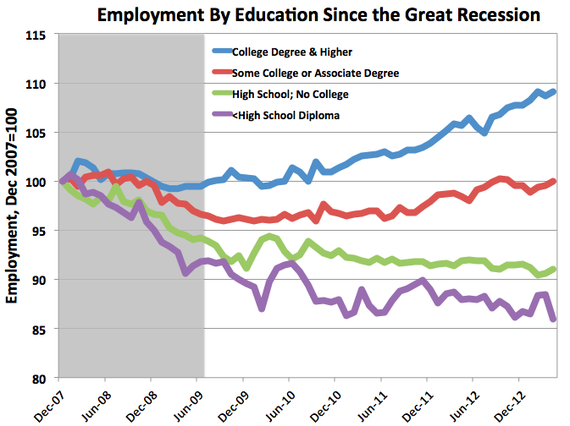 Here's the story of our polarized labor market in two acts. During the recession, college graduates didn't lose many jobs, while everyone else did. But during the recovery, college grads have gained the most jobs, while everyone else mostly hasn't. Look at the green and purple lines again. People without any postsecondary education not only got hit hardest during the downturn, but have also gotten hit during the upturn. In other words, they have even lost jobs during the recovery.
Remember that the next time a college grad tells you college isn't worth it anymore.