Should You Go to College? The Atlantic FAQ
A click, print, and paste chart for young people on the fence about higher ed.
Students are used to thinking of college as a requirement, or a career accelerator, or four-year party. But maybe it's best to think of it as a straightforward investment.

Before making an investment in a stock or a house, you would do research. You would consider the costs weighed against future returns. You would know there are no guarantees. It should be the same with college. Like buying a house, the most important question isn't the total price, but whether you can afford to pay it off in the long run.
For most students, the college investment "appears to pay off," according to Philip Oreopoulos and Uros Petronijevic in a wonderful new study of studies on the benefits of higher education. Their lit review covers a lot of ground, from the growth of student debt to the most lucrative majors. Here are some of their major findings, gleaned from reams of research from the past 40 years, organized in an easy click-print-and-paste FAQ chart for young people thinking about more school -- and older people debating whether college is still worth it.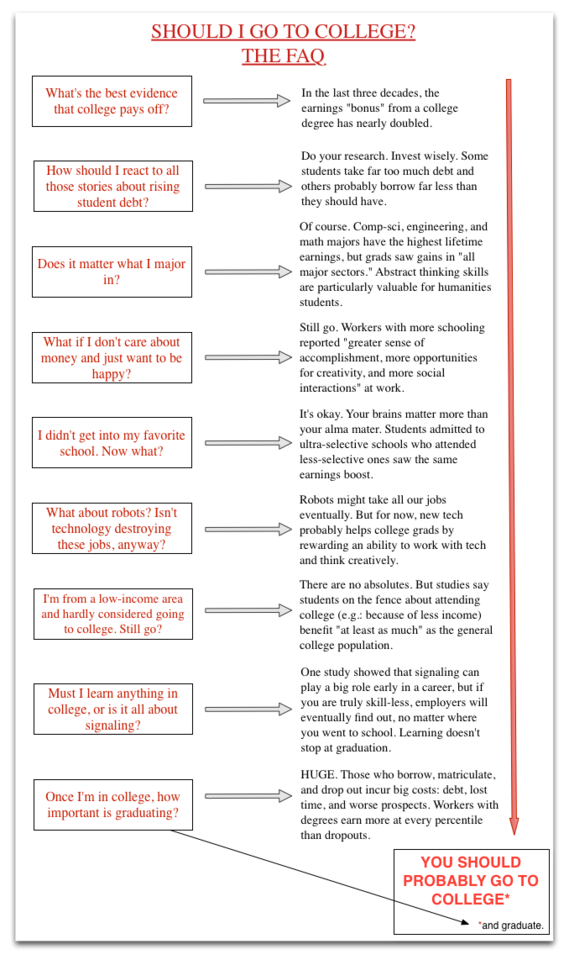 >