Old Economy Steve: The Official Meme for Embittered Millennials
But c'mon, show a little sympathy for OES.
Meet Old Economy Steve. As a proud member of the class of 1970-something, he's got a doofy haircut straight out of "Dazed and Confused," along with a sunny financial future. With commencement season 
drawing to a close, his awkwardly smirking face has become the canvass upon which some angry Millennials have decided to vent their frustrations with the economy, not to mention condescending Baby Boomers. 
There are almost 700 of these on 
quickmeme
.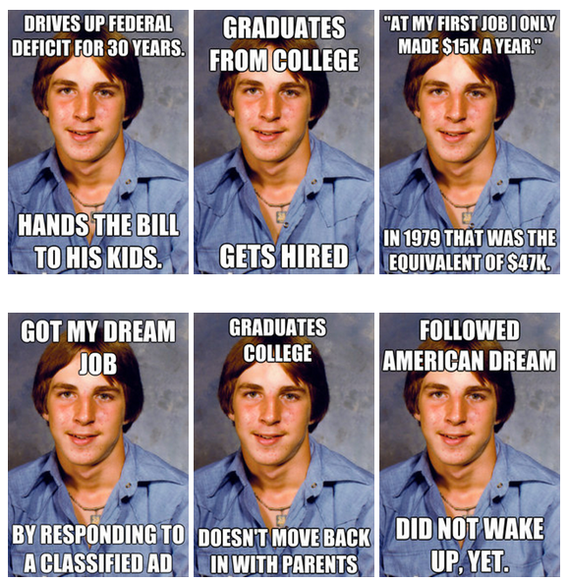 But wait, how good did Steve really have it? Assuming he finished school some time in the late disco era, probably not so hot. Remember, the 1970s were the time of stagflation -- that awful combo of high unemployment and spiraling inflation that left policy makers flummoxed. When the Federal Reserve finally jacked up interest rates to combat it, the bank induced several rocky years of recession. In 1982, the unemployment rate for 20-to-24-year-old men peaked at more than 18 percent. For teens it was in the twenties. Meanwhile, the late 70s also kicked off America's first plunge into industrial decline. Little remembered fact, Chrysler actually needed a government bailout to survive in 1979.
Meanwhile, there's a decent chance that Steve saw his 401K cut in half come the 2008 financial crisis. Or, if he was a Chrysler worker, he might have gotten laid off just a few years short of retirement. So, maybe we should give Old Economy Steve a break. 
Now, had he graduated in 1969, it's a different story.  
(Via Buzzfeed)