JC Penney's 'Hitler Tea Kettle' Sold Out in Hours Because This Is the Internet
That's one way to move merchandise.
You know who else used illusions to sell things?
I'm just kidding. JC Penney isn't anything like Hitler. But its Michael Graves Stainless Steel Tea Kettle is. The fact that its profile looks eerily like the Fuhrer's mien caused a stir online Tuesday, forcing the company to deny that it had any intention of introducing dictator silhouettes to its small appliances line.
Here is your Hitler kettle, glimpsed from a California billboard.*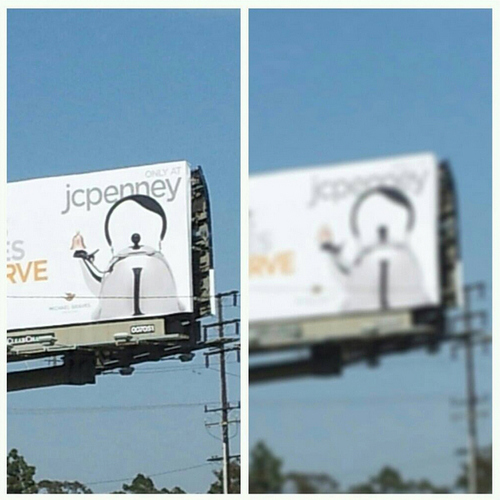 Naturally, the product sold out in a matter of hours, since JCP's inventory wasn't prepared for a spasm of Internet pareidolia to turn one of the 31 tea kettles on jcp.com into a viral celebrity. Now dozens of happy families are about to welcome a piece of mid-afternoon May 28 Internet history and a confusing conversation piece for the kitchen -- or a perfect gift for a 20th century history buff with a weird sense of humor.
If only JCP's stock price could profit so cleanly from bad news.
_________
*If you're having trouble making it out, imagine the nob as the mustache and the handle as the cleanly left-parted hair.