Fear for The Washington Post
The parent company has turned into a TV operation grafted onto fading education and newspaper businesses.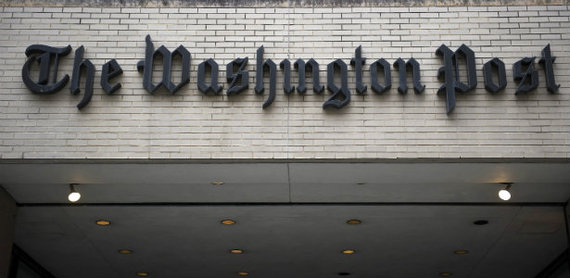 (Reuters)
Washington Post Co. reported its first quarter results today, and as should surprise nobody, all is still not well for its namesake newspaper. Revenue kept on dwindling along with print advertising. Digital revenue edged up a bit, but not enough to compensate. The happiest thing that could be said about its performance is that much of its $34.5 million operating loss was due to the cost of handing out early buyout packages to staff. So at least those salary costs will be coming off the books.
But that's not why I felt a newish tingle of dread for WaPo (where I interned in 2008) while looking at their results this morning. Rather, it was how the parent company's financials broke down by division, which I've graphed out below. Notice a pattern?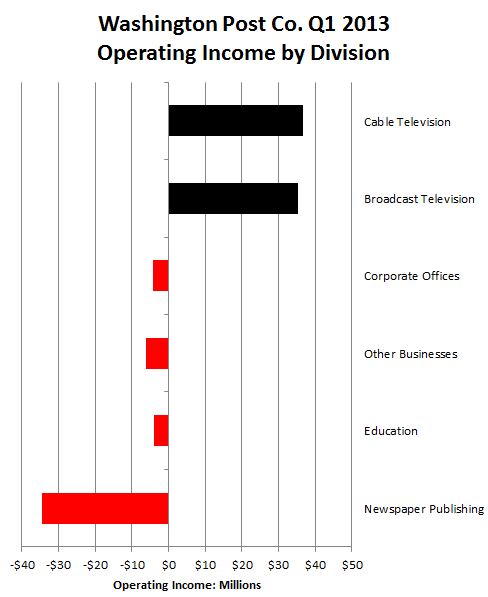 Yep, the Washington Post Co. is now a healthy television company attached at the hip to a money-hemorrhaging mishmash of education and publishing businesses. A few years back, its Kaplan test-prep and for-profit-college division was supposed to be the lifesaver that would keep the whole operation afloat. No longer. For-profit higher education is in retrenchment, and like its competitor the University of Phoenix, Kaplan is shuttering campuses and looking for ways to cut costs as enrollment drops.The problems go much deeper than the federal government's mostly stalled efforts to bring down its regulatory hammer. Just as the schools have tried to ease off their most predatory enrollment practices, the college attendance boom of the last decade has trailed off, leaving schools to compete for a smaller pie of students. And while the for-profits had an early advantage in the online space, state schools are beginning to catch up. Companies like Kaplan and Phoenix are now trying to figure out how to be profitable with smaller student rolls and less revenue. In other words, they look a whole lot more like newspapers.
Which brings us back to the WaPo. The entire Washington Post Co. is, in fact, still profitable thanks to those vital TV dollars. But it has one fewer leg to stand on than in the days when Kaplan was flush. Maybe it will be able to hobble along. But it feels like at some point, something has to give.