Europe's Record Youth Unemployment: The Scariest Graph in the World Just Got Scarier
The new number that should terrify Europe is 62.5 percent.
Europe's job market is a historic disaster.

The EU unemployment rate set a new all-time high of 12.2 percent, according to today's estimates. But it's the youth unemployment crisis that's truly terrifying. In Spain, unemployment surged past 56 percent, and Greece now leads the rich world with an astonishing 62.5 percent of its youth workforce out of a job (graph via James Plunket).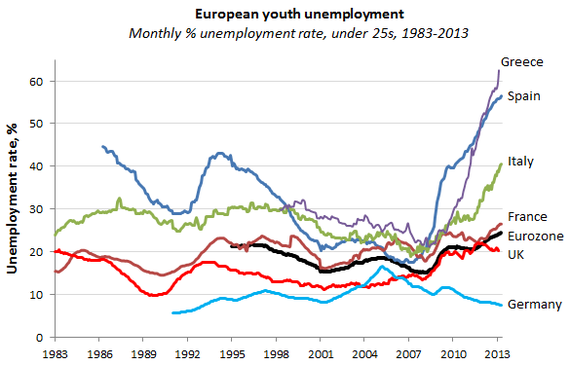 My God, look at Greece's trajectory. That thing isn't slowing down. Since April 2012, Greek youth unemployment has grown by about one percentage point a month. At that rate, it would pass 70 percent in early 2014.

It is suddenly not insane to imagine a youth unemployment rate of 70 percent in the developed world. And that is insane.

It should be noted that some people consider youth unemployment figures a bit hyperbolic. They prefer measures like "youth unemployment ratio, which takes the share of young people who are looking for work but can't find it and divides it by the entire population. Last year, the EU's youth unemployment ratio was 9.7 percent , less than half the youth unemployment rate of 23 percent.
But even the ratio fails to account for the millions of young people who have all but given up in their awful economies. There are 26 million young people in rich countries who are as "NEETS" (Not Employed, or in Education, or Training), according to the OECD.

Youth unemployment is bad for all the obvious reasons, including the big loss to future productivity and earnings. But Europe's youth unemployment is strange, because we've never seen a generation *this educated* also be this unemployed. Nearly 40 percent of Spain's 20-and early-30-somethings are college educated. In Greece, it's 30 percent. Europe's crisis -- clearly worsened by its austerity obsession --  is an absurd waste of the most educated generation in the continent's history.