Did the Internet Save Marriage?
A new study finds broadband access leads to higher marriage rates. But whether the Web is making our marriages better, we can't say.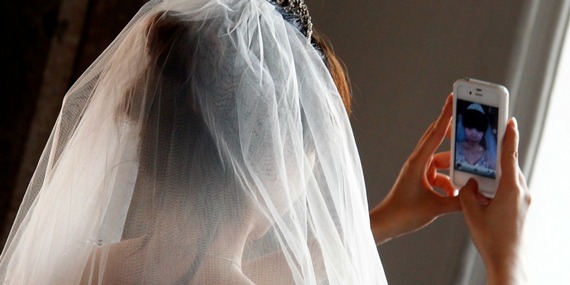 Twitter is making us weird, and gaming is making us anti-social, and Facebook is making us lonely, so it couldn't possibly be the case this ineffable and unwieldy force called Internet could be leading to more marriages. Right?
Actually, that's precisely the conclusion from Andriana Bellou's new paper, "The Impact of Internet Diffusion on Marriage Rates: Evidence from the Broadband Market." Bellou doesn't just find a correlation between broadband adoption and rising marriage rates. She also finds that marriage rates among twentysomethings rose significantly in areas after broadband became available, suggesting a causal link.
Skeptical? So was I. Broadband access has been growing across the country for the last 20 years. Marriages, meanwhile, have been in decline. The century-long story on marriage rates, via Betsey Stevenson and Justin Wolfers, conclusively shows marriage rates (in the light purple) declining since the 1970s.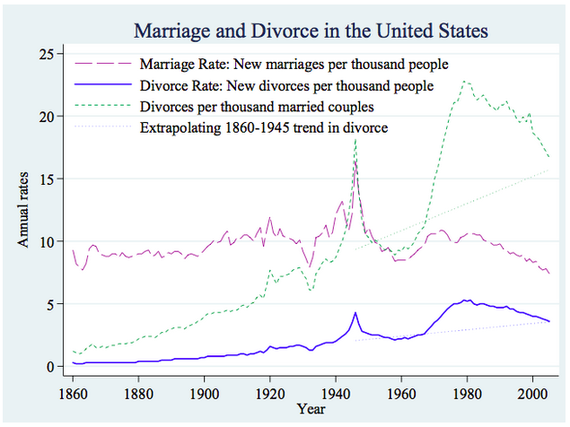 Bellou herself finds young twentysomethings less likely to marry in 2000 than they were in 1980, or '85, or '90, or '95. Here's that graph: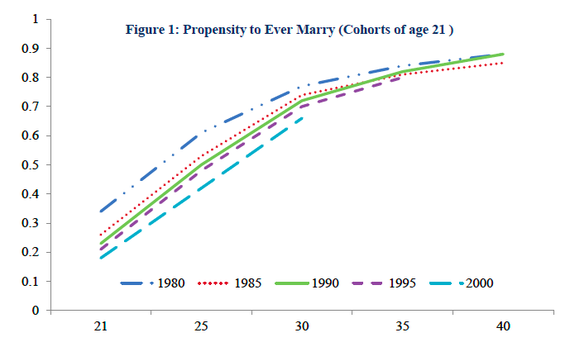 Furthermore, if high-income areas are more likely to have broadband access anyway, that could skew the results toward their conclusion. High-income women are the *only* group of women likely to be married today than they were in the 1970s, according to the Hamilton Project.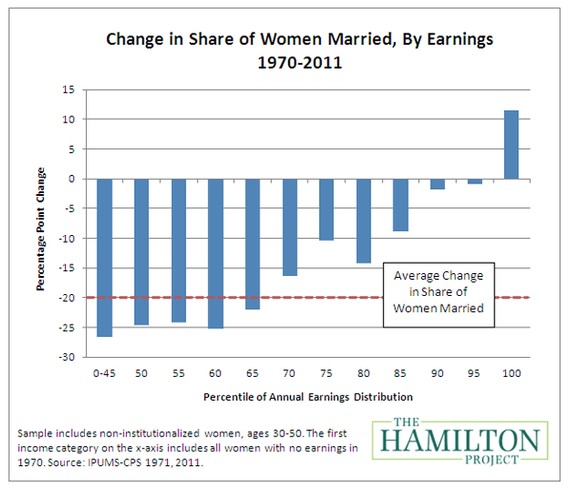 Still, Bellou finds that Internet expansion is clearly associated with increased marriage rates among twentysomething whites and among younger individuals other racial groups. Her graph shows "marriage rates grew on average more in states with greater increases in broadband penetration."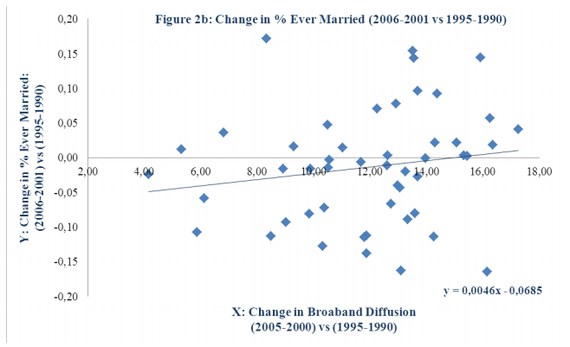 There you have it. Even though there are fewer marriages per thousand and more broadband than ever, it is still somehow possible that expanded broadband could lead to more marriages, presumably by making it easier to find suitable singles on the Internet.

In a footnote, Bellou buries a fascinating thought. Does the Internet make the marriage market better, or just more efficient? There's a big difference!

If targeted search leads to matches of more compatible people, such matches will likely be more stable. However, if meeting people becomes easier at all times and ages so that a divorce seems less costly, then this could imply entering a marriage less thoughtfully to begin with. In the latter case, we might expect higher marriage rates (related to Internet expansion) but also higher incidence of divorce.
We don't yet know if the Internet's effect on marriages is to help us find The One Thing we're looking for (i.e.: the Google Effect) or if its ultimate gift is to make us more fully aware of our universe of options (i.e.: the YouTube Effect). Both could lead to more long-term happiness, I suppose. But the latter would lead to such happiness through an explosion in divorce rates. That alone would reverse a longish-term trend of its own: divorces per thousand people have also been falling for the last 30 years. The Internet might have saved marriage, but the Web has plenty of time to destroy it, too.

>