Black Unemployment Is Still Shamefully High
A reminder to Congress: the jobs crisis is still ravaging plenty of communities.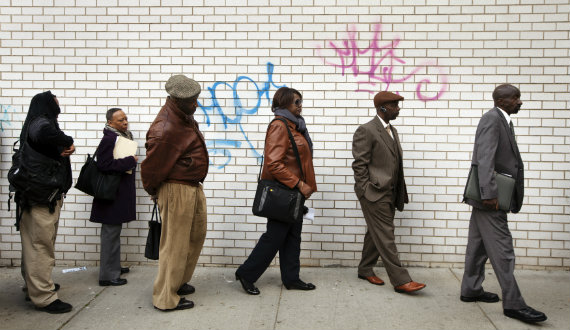 (Reuters)
This year, Washington's political class hasn't merely given up on trying to fix U.S. unemployment; it's given up on even discussing the subject. This is shameful, and not simply because the jobless rate is still two or so percentage points higher nationwide than it should be, or because the long-term unemployed have been left out to dry. No, it's shameful because many communities across the country are still simply being ravaged by the lack of work.
Particularly the black community. Even in good times, the unemployment rate tends to be roughly twice as high for blacks as whites. Nationwide, black workers today are facing 13.2 percent joblessness. In some large states, the rate is far worse, as shown in the graph below, which was recently posted by the Economic Policy Institute. In Michigan, it was 18.7 percent by the end of 2012. In New Jersey, Illinois, North Carolina, California, and Ohio, the rate was above 15 percent.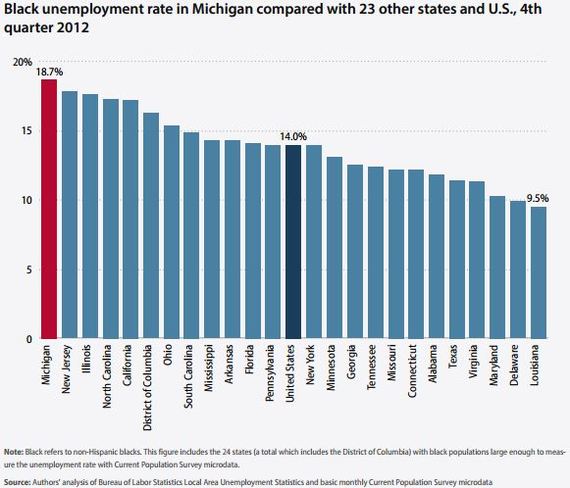 Those numbers are grotesque on their own. But they're even revolting when you consider long-term unemployment, which has become a virtually permanent trap for those unfortunate enough to fall into it. In 2012, almost half of unemployed blacks were out of a job for 27 weeks or more. Today, 16 percent have been out of work and looking for at least 99 weeks, compared to about 12 percent for whites. This is the sort of joblessness that devastates families and neighborhoods. 
I realize that, with a gridlocked Congress, any sort of meaningful action on employment is dead near impossible. But the lack of conversation over our jobs problem suggests that a lot of people in power have been lulled into passivity. The stock market is roaring ahead. Their constituents and donors are doing fine. We've had a string of acceptable jobs reports, a strong stock market, and a headline unemployment number that feels somewhat normal compared to the crisis of a few years back. But for a lot of the country, the crisis hasn't even come close to ending.