America: Where the Poor Don't Get Holidays Off
Vacation inequality, it turns out, is an actual problem in the United States.
The funny thing about national holidays in the United States is that they're not really national holidays. Unlike the rest of the developed world, we don't guarantee every worker paid time off. Not for summer vacations. Not for Christmas. Not for Memorial Day. So while most of us will be kicking back with beer and overcooked burgers this long weekend, many will still be on the clock because they need the check.
As the Center for Economics and Policy Research reminds us, European workers are entitled to at least 20 days off, not counting holidays. Even Japan guarantees ten. In Austria, Belgium, Denmark, Greece, and Sweden, employers are even required to pay their employees a vacation bonus to help cover the cost of travel expenses.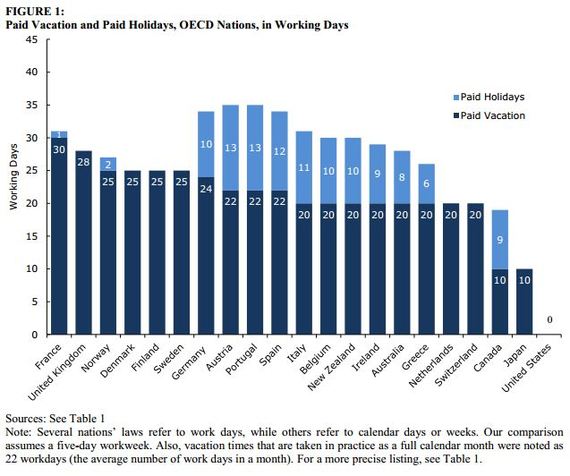 Even if the vast majority of full-time employees do ultimately get time off here, only 40 percent of part-time workers get paid vacation, and only 35 percent get paid holidays. This might seem like common sense -- why should a part-timer be given extra days off? -- unless you remember that many low-wage employers, especially in retail, cut worker hours down just below the full-time mark in order to avoid paying out benefits. In the end, among the bottom 25 percent of all earners, both full-time and part-time, just about half get paid holidays or vacation. Among the top 25 percent of earners, about 90 percent do. Vacation inequality, it turns out, is an actual problem.
Don't you just love American exceptionalism?